Ok, let's set the the scene…
I'm sitting at a tiny desk in my hotel room. The word 'desk' might be a stretch, lets call it a shelf. I'm wearing a white and navy blue Yukata (Japanese casual summer kimono) which by the way is extremely comfortable. If I stretch my arm out to the right I can touch the bathroom door. If I stretch my arm out to the left I can adjust small rectangular window blind. My chair is wedged between the desk 'shelf' and a small single bed and what is left of the floor is taken up by my open suitcase.
Welcome to micro living in Tokyo!
I've been told by previous tour participants that the key to successful Dulux Study Tour is pacing yourself, getting sleep and most importantly coffee! Day two started with an injection of liquid gold at a fantastic little hole-in-the-wall coffe shop called About Life Coffee Brewers, the Dulux dog even came along for for a little wake me up!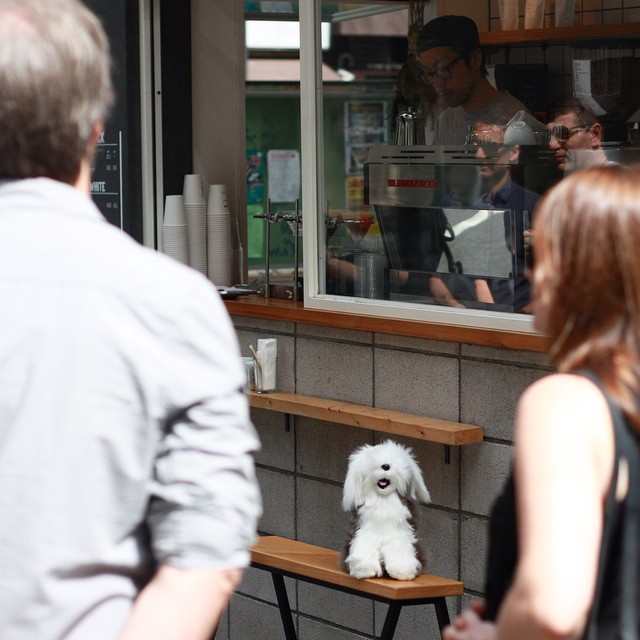 Today we embarked of a massive walking tour of Tokyo lead by our knowledgeable guide Yuka and joined by a number of local architects from JIA (Japan Institute of Architects).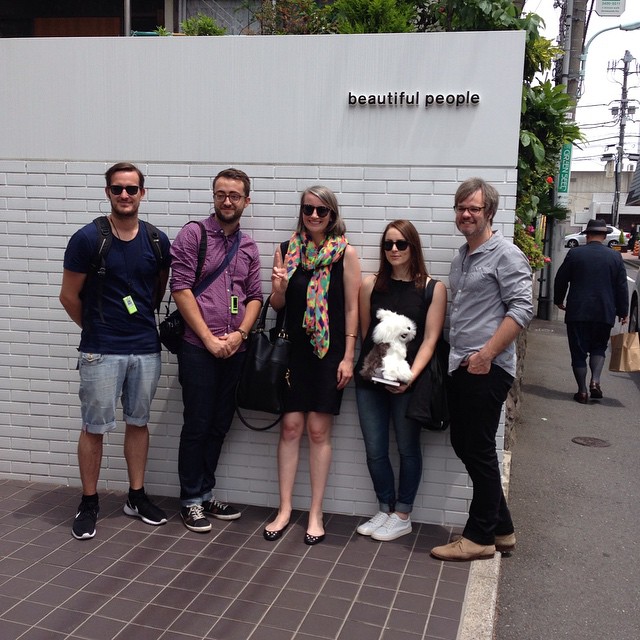 First stop on the tour was Hertzog & de Meuron's Prada store.  Physically and visually separated from the buildings that surround it, the Prada store sits like a glowing gem in the dense Aoyama street scape. I've visited this building a number of times in previous trips to Tokyo but never felt like it was ok to go inside. I don't know if it was the beautifly dressed guard by the front door or if I just had extreme credit card fear! Today was different, we were welcomed in by the store manager and taken on a private tour of the building on our own before it opened for business. It really is worth facing your credit cards fear and experiencing the spaces from the top floor down.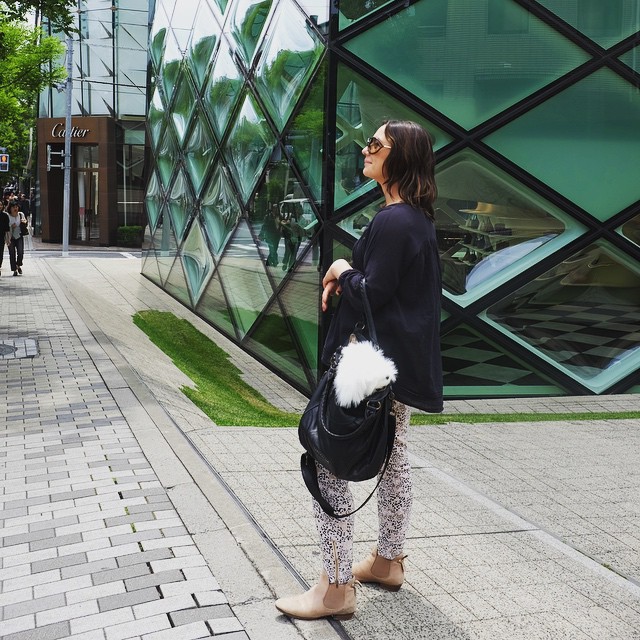 Across the road we visited the newly opened Miu Miu store also by HdM with its beautiful angled awning entry and mirror polished walls.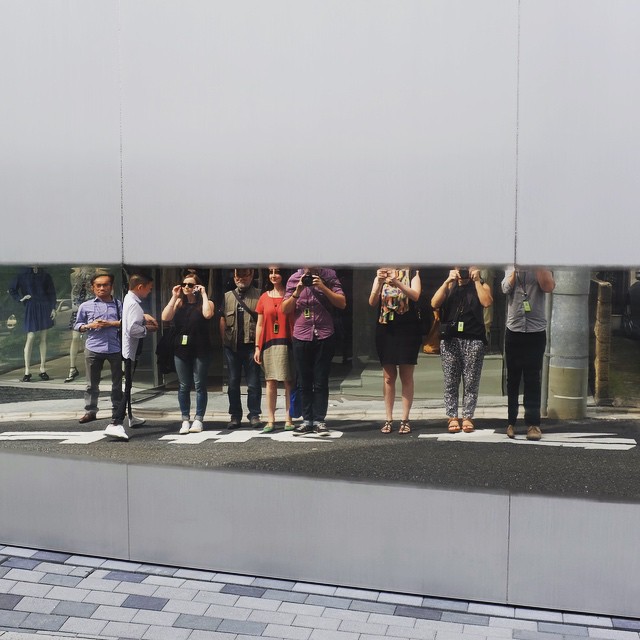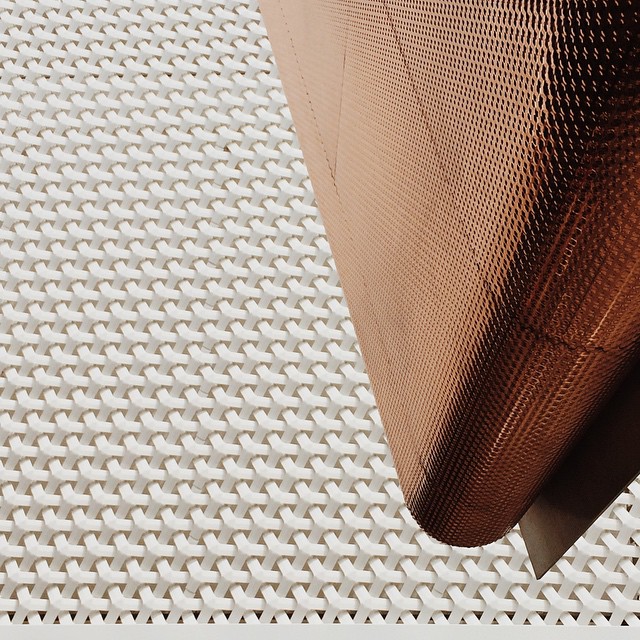 A short walk down another tiny street we arrived Kengo Kuma's brand new Sunny Hills store where we sat and ate pinapple cakes and green tea in its forrest-like space. The building was commissioned by a Taiwanese pinapple grower as a way to promote his products.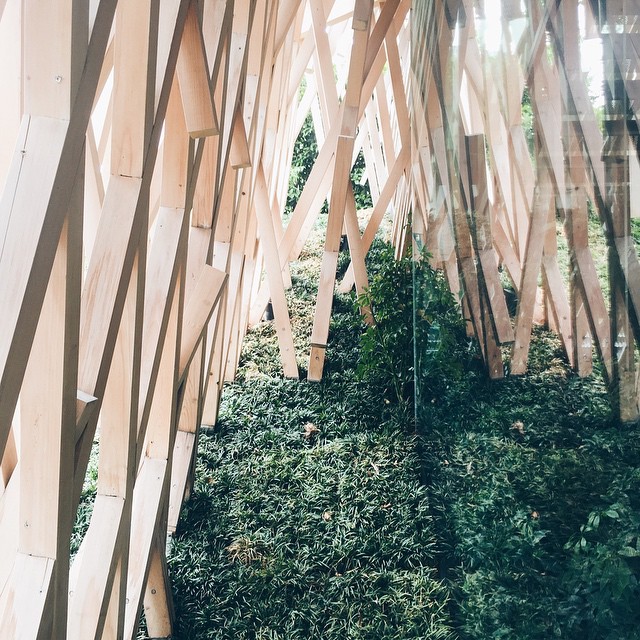 After Sunny Hills we visited a large public housing project of around 25 4-5 storey apartment blocks in the centre of the Omotesando area. Originally built in the 1960s they are earmarked for demolition in the lead up to the 2020 Olympic games. In recent years have become quite desirable for their low rent and proximity to some of the more afluent areas of Tokyo.
A small detour via a temple and graveyard where we passed an in-progess funeral, we arrived at teh top of the Omotesando shopping strip. This is the wide tree lined street where the most prominent fashion brands build their signature buildings. Think Toyo Ito's Tod's tree-like structure; Dutch architects MVRDV 'Gyre' (meaning 'turn' or 'rotate') ; SANAA's glowing Dior store and Tadao Ando Omotesando Hills building with its ramped and stepped ground plane.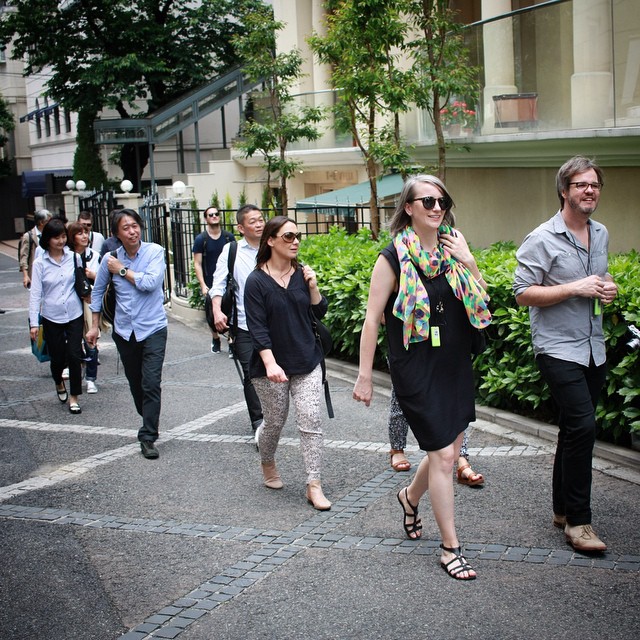 A twist and turn down Cat Street in Harajuku we arrived at Yoyogi National Stadium designed by Kenzo Tange and built between 1961 and 1964 to house swimming and diving events in the 1964 Summer Olympics.
The day finished with an early evening cocktail with Bill Murray & Scarlett Johansson at the New York Bar on the top floor of the Park Hyatt Hotel and then a completly mind blowing (and maybe more of lost in translation experience) at the Robot Resturant in Shinjiku.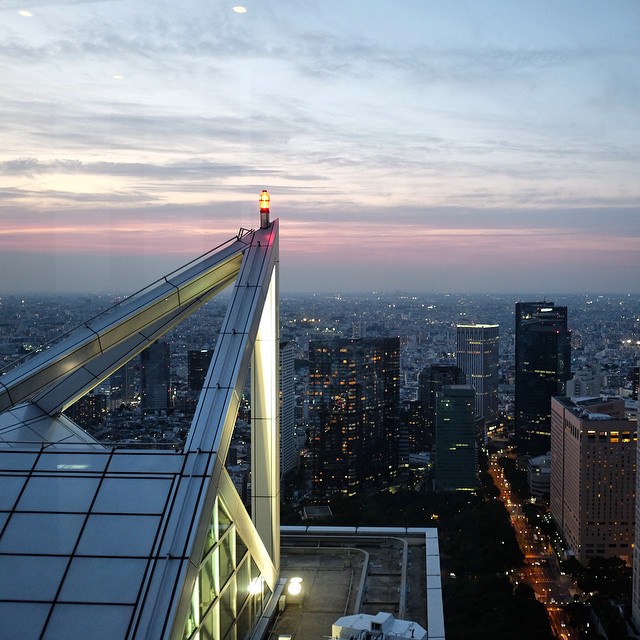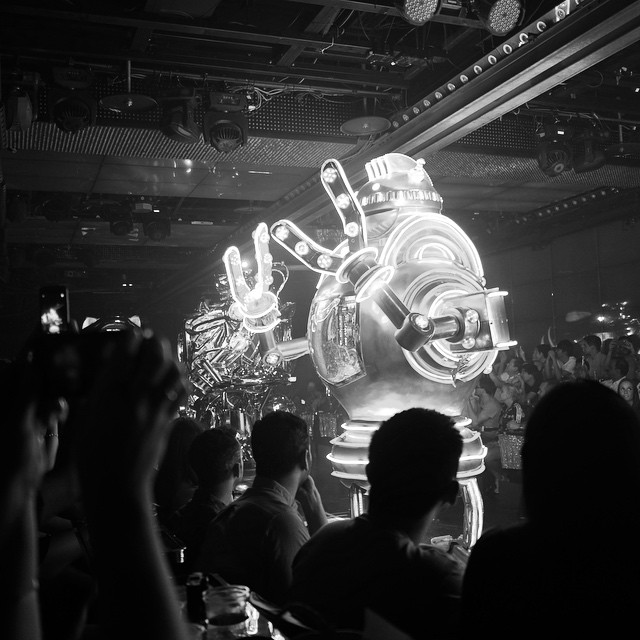 I'm not too sure how you top day two… but I suspect we'll find out tomorow!