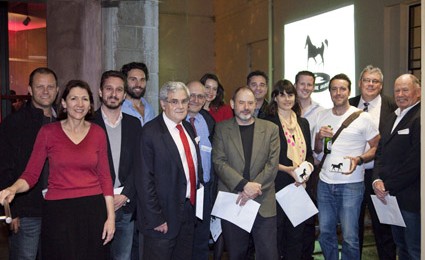 DARCH Horse Awards 2012
Congratulations to all the recipients in the DARCH Horse Awards 2012!
A new initiative for 2012, the DARCH Horse Awards have been developed by DARCH, the NSW Emerging Architects and Graduates Network of the Australian Institute of Architects, to recognise and celebrate outstanding contributions by non-architects in the pursuit of a high quality built environment.
EmAGN architects and graduates could nominate outstanding contributors in the categories of Developer, Builder, Government Authority, Client and Consultant. There were also a number of Jury awards given.
The jury consisted of; Annabel Lahz (Lahz Nimmo), Phillip Vivian (Bates Smart), and Ken McBride (Innovarchi).
The Awards were announced on Friday 16th November at 'Tusculum', The Australian Institute of Architects Sydney office in Potts Point.
Winners and Commendations
Developer
DARCH HORSE COMMENDATION: Oliver Johnstone of BUILT nominated by Llewela Griffiths of TZG Architects
DARCH HORSE AWARD: David Kaunitz of Kaunitz- Yeung Architecture nominated by Aaron Leeman-Smith of Order Architects
Builder
DARCH HORSE COMMENDATION: Nick Scotece of Patterson Building Group nominated by Constance Trofimovs of DTB Architects
DARCH HORSE AWARD: Rod Windrim of Windrim Building Contractors nominated by John Rose of Tanner Kibble Denton Architects
Government Authority
DARCH HORSE AWARD: Nick Tobin of Willoughby Council nominated by Gabrielle Suhr of SJB Architects
DARCH HORSE JURY AWARD: Darlene Van Der Breggen of Sydney Olympic Park Authority Nominated by Annabel Lahz and Philip Vivian
Client
DARCH HORSE COMMENDATION: Daniela Caiazza and Lou Rendina nominated by Shaun Carter of Carterwilliamson Architects
DARCH HORSE AWARD: Stephanie Smee and Paul Schoff nominated by Sam Crawford of Sam Crawford Architects
DARCH HORSE AWARD: Dani Milner and Paul Schmuckler nominated by Hannah Tribe of Tribe Studio Architects
DARCH HORSE JURY AWARD: Geoffrey Leeson of UNSW nominated by Annabel Lahz of lahznimmo architects
Consultant
DARCH HORSE AWARD: Paul Connett of Hughes Trueman nominated by Gabrielle Suhr of SJB Architects DARCH HORSE JURY AWARD: Richard Green of TTW nominated by Annabel Lahz of lahznimmo architects
Jury Category:
Sub Contractor
DARCH HORSE JURY AWARD: Dirk Janessen of Craft Metals & Greg Cunningham of ARC Roofing nominated by Ken McBryde of Innovarchi
DARCH HORSE JURY AWARD: Andrew Gore of JWI Louvres nominated by Philip Vivian of Bates Smart
Urban Provocateur
DARCH HORSE AWARD: Roderick Simpson of Simpson+Wilson nominated by Joe Loh of SJB Architects