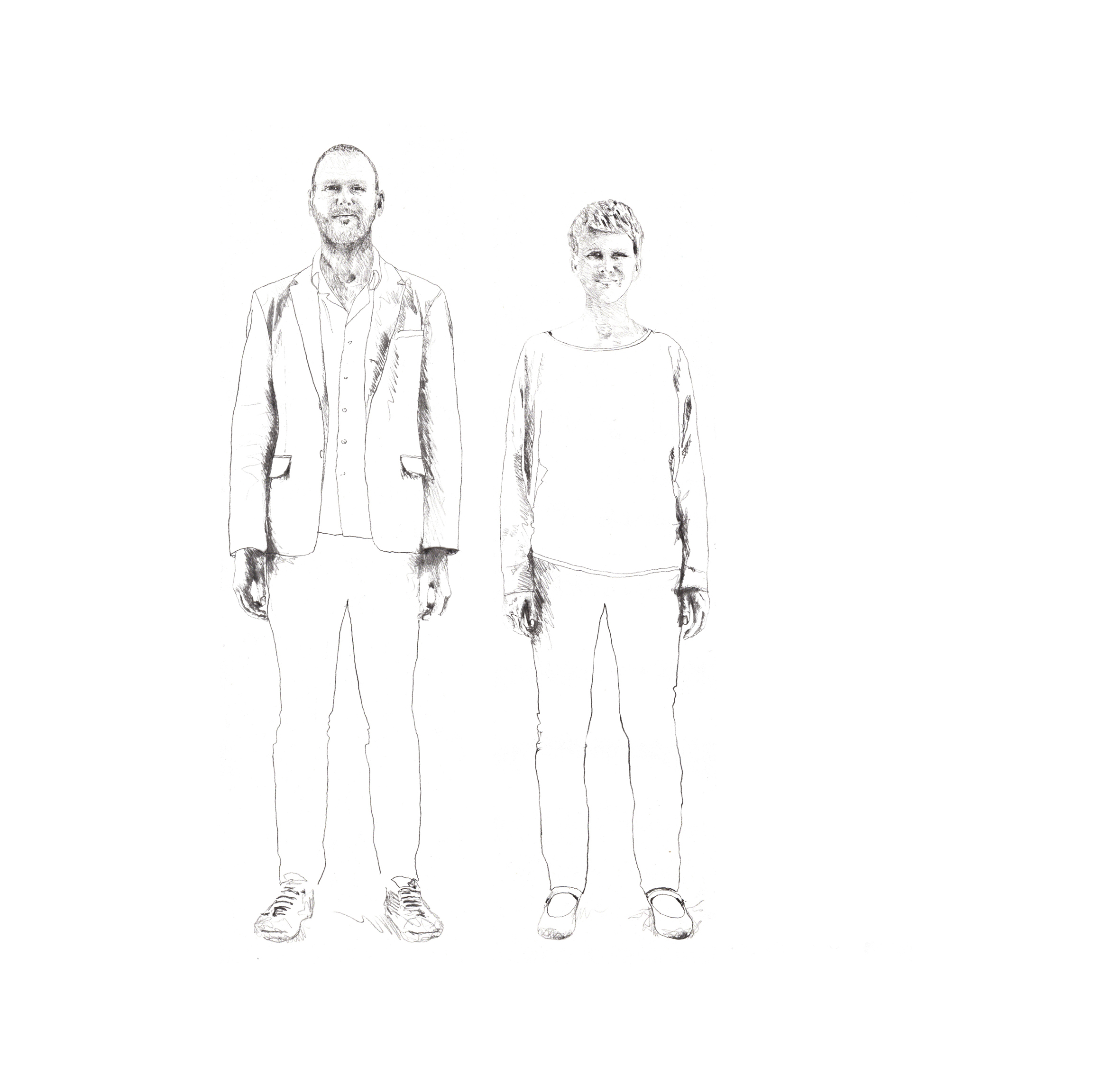 PANOVSCOTT speak with EmAGN NSW
2016 NSW Emerging Architect Prize Winners: Panovscott [PS]
Interviewer: Joseph O'Meara [JOM]
Featured Image by: Panovscott
Anita Panov and Andrew Scott are the recipients of the 2016 Emerging Architect Prize.
Collaborators in life, the work of 'panovscott' reveals a passionate and poetic commitment to architectural life: in practice, theory and education. The practice has built an exquisite and rigorous library of work in which the spaces, setting and finished detail are of equal value.
They take the position that each project is a body of research, tested with students in a studio environment, shared with the profession and then used to inform future projects. Through their conscious and thoughtful approach to the crafting of buildings, panovscott demonstrate design excellence, generosity of spirit and leadership by example. They are builders, teachers, curators, scientists, agitators and writers. This critical thought leadership has the potential to inspire the next generation of architects.
EAP Jury: Monica Edwards, Murray Chaloner, Brendan Murray, Phuong Le, Joseph O'Meara.
JOM: I would like to begin by congratulating you both on winning the 2016 Emerging Architect Prize. Were you surprised to win, given it was the first time that it has been awarded to a collaboration?
PS: Thank you, we were very chuffed, though have to admit we found the nomination process for this award a little quizzical, being not for a building, nor a practice. It is for a person (Anita) as a collaboration (Anita and Andrew) when really what we do, our offering as emerging architects is as a collective (panovscott). Not to mention the collaborators outside of our immediate practice, our clients, engineers, the brilliant builders who invest so much of their lives in making what we invent. As such this results in some ambiguity in the personal responsibility for each cited achievement.
JOM: What is the structure of your practice and what influenced this way of working?
PS: We began in 2012. The manner in which we have designed our practice is intrinsically linked with the manner in which we live. Our practice is now 6 people. Two of which are owner/directors. Three of which are female. Three of which are part time. Two of which are registered. The diversity of our practice enables a richness in divergent viewpoints which helps us to collectively understand and position our work within the world in a more sensitive manner.
We have experimented with a number of ways of working over the years and found the best solution is to closely intermingle our family and practice. Our children are 3 and 2yrs old. Our staff know them almost as well as we do. They are at our feet. Atlas was on the site of the 3×2 house just weeks after he was born. Conference calls are arranged around bath times, day-care and grandparent drop-offs around site meetings.
This enables us to both be both architects and parents. And despite all the difficulties, for us to be better architects and better parents than if we each had to be just the former, or the latter.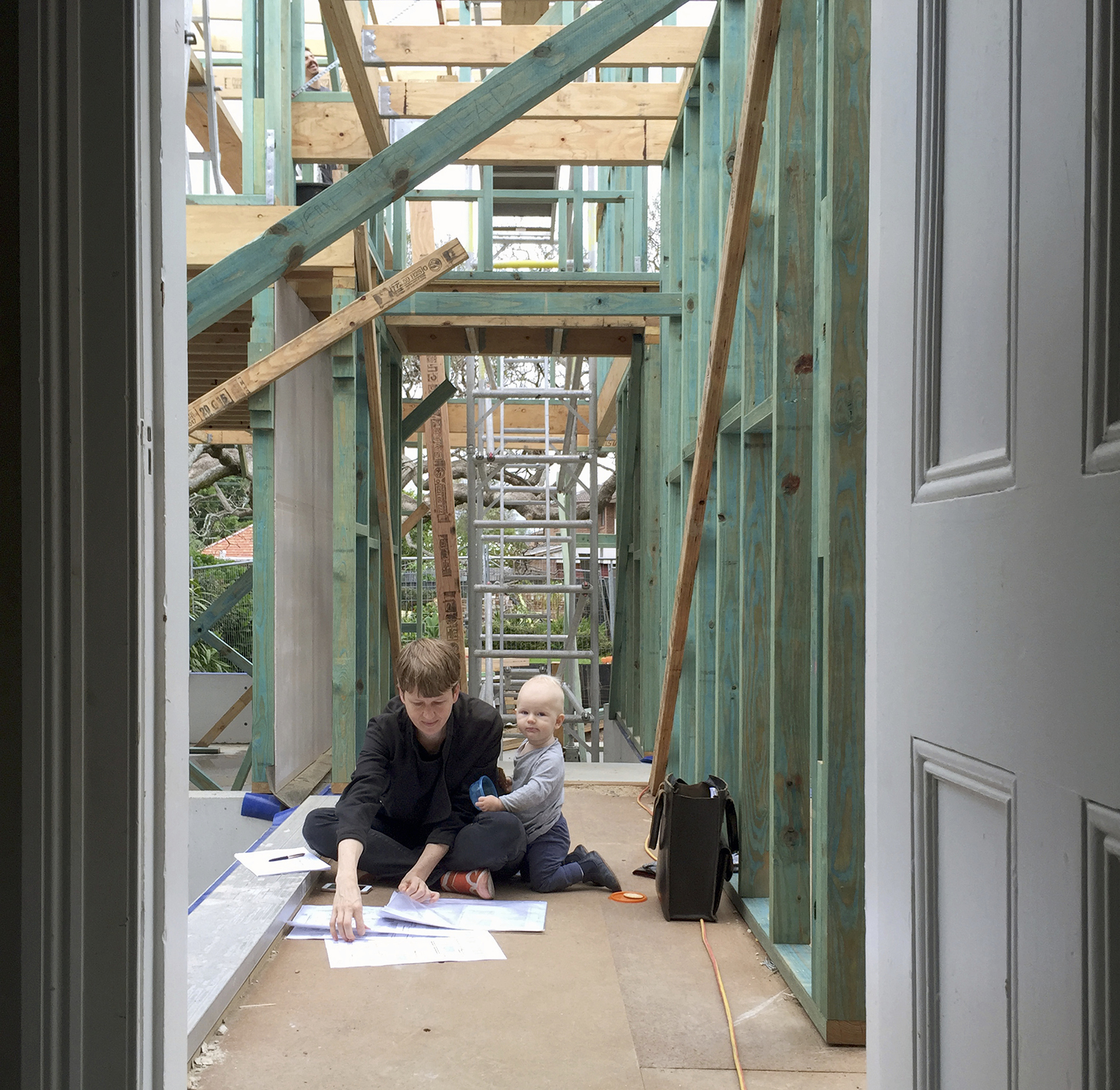 Photo by: Panovscott
JOM: What pathway led to Panovscott?
PS: We both spent the better part of a decade working closely with the principals of respected architecture practices; a lengthy apprenticeship! Andrew practised and taught with Angelo Candelaps and Anita with William Smart. Our experience ranged from the very small scale refurbishment of apartments, to the construction of single dwellings, to the larger world of multi-res developments, adaptive re-use of inner city warehouses, a church, a mosque, international collaborations on design competitions… a great variety of experiences.
JOM: What was it like designing and building your own house – Armature for a window?
PS: It was a huge investment of time over about seven years, one which was immensely valuable to us, not only in learning the weight of a hammer, but also the daily pleasure which can result from living with the design decisions made together. Both the existing characteristics of that house and those transformed, combined in a specific way to facilitate our life at that time. Whilst the house itself is a beautiful object, it was this enabled life that was the most cherished aspect of our home. And it is this aspect that embodies the real offering of an architect to those who commission their expertise.
We've written before about the term coined by Richard Le Plastrier; the tyranny of
comfort. To us the experimental life sought within the house eschews this apathy and actively seeks better modes of habitation. In this the deliberately cultivated generic character of the spaces in the house enabled different uses to happily exist moment to moment. At times the studio was the master bedroom, the master bedroom a meeting space, the living room a place for ping pong tournaments whilst the studio a living space amongst the tree canopy. This experimental method extended beyond the immediate pragmatics of inhabiting the house and into most other aspects of our lives.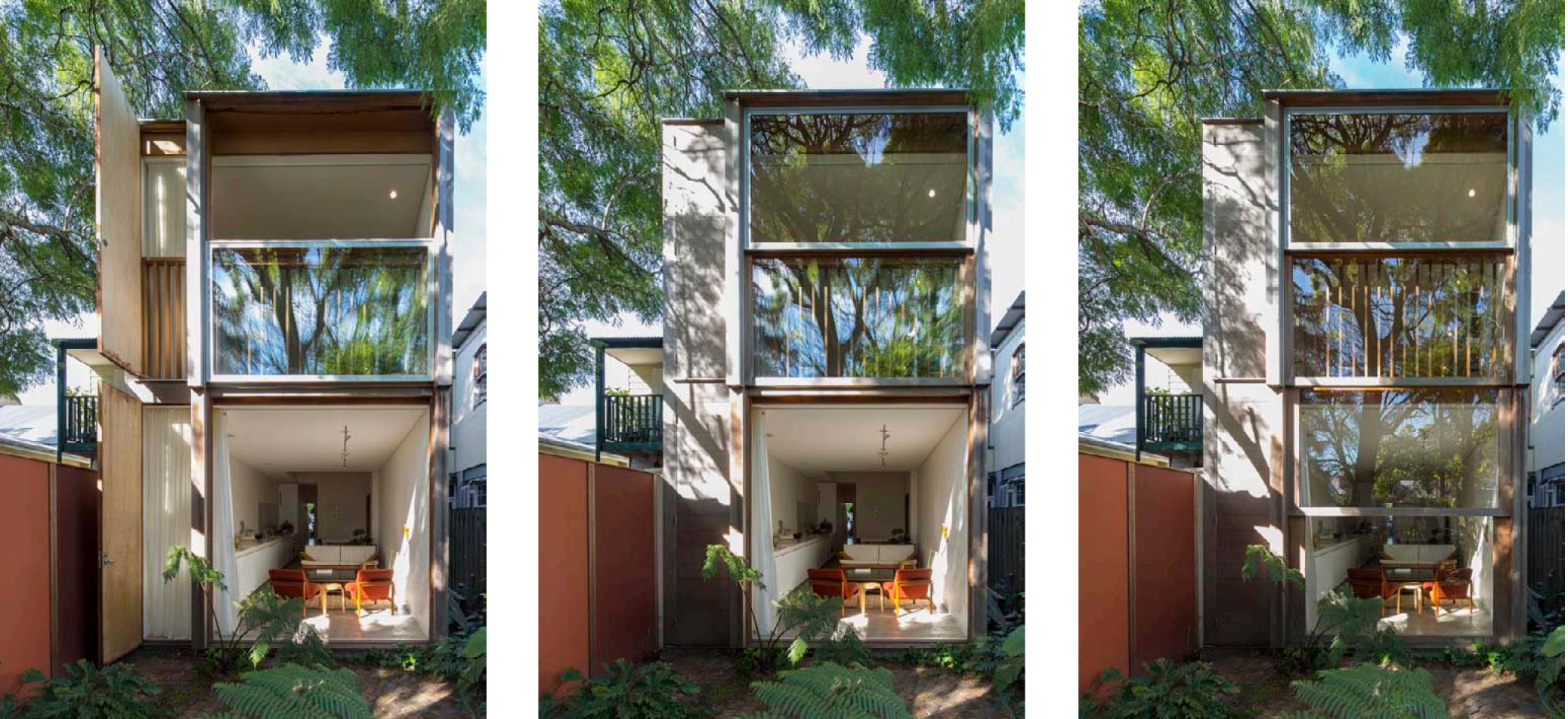 Armature for a window
Photos by: Brett Boardman
JOM: How has teaching, travelling and research influenced your practice of architecture?
PS: Immeasurably! Just on travel, we as architects can be so select about the manner in which we portray our work to others, and as storytellers this is our remit. But the experience of architecture is irreplaceable in our understanding of it. For one, the journey to and arrival at the building, the manner in which the building delights our senses beyond the visual – so much that we don't experience in print or even film. And then interestingly, we make our own story of that visit – the weather on the day, the season, the solitude enjoyed, the smell of rosemary or wet eucalypts, or refuse, perhaps missing the train to get there or the mounting anticipation in negotiating hurdles of access. So perhaps it is naïve to suggest one is more comprehensive than the other, given that each of our experiences are limited to that hour, or day, or days, but nonetheless, this heightens our awareness of the building, the architect's intention, its place in time, and our ability to reflect and incorporate this awareness into our work.
JOM: You have worked on several inner-city terrace houses. What is it about the terrace house typology that you engage with?
PS: Perhaps our common preoccupations with this typology are not altogether dissimilar to any of our projects. How to bring light into the (literal) depths of a space, how that space expands and contracts, how to provide a manner of living which is not isolated but allows moments of solitude, how to connect with the sky, the garden, the city. We enjoyed Katelin Butler & Cameron Bruhn's ordering device in their recent publication, The Terrace House, being one of width.
JOM: What led you to research into the amenities buildings of Sydney and beyond?
PS: We were fortunate to win a design-based tender for the City of Sydney, for a small amenities block on Observatory Hill. It is not likely to proceed for now, being at the epicentre of major heritage and transport infrastructure, but sparked our research at the time. We prepared a taxonomy of loos in sketch form including plans from the earliest urinal on Observatory Hill to the many fine recent examples in our city.
JOM: To finish, I would like to talk about The Garden Gallery which was recently awarded the Robert Woodward Award for the best small project in NSW by the Australian Institute of Architects. Can you please tell us more about this project?
PS: This project is a studio and gallery. The couple who commissioned it are artists with a young family. The building is to allow them to engage in the making and consideration of art apart from, but in close proximity to, the domestic environment.
Historically the place of production adjacent the home has been referred to as the shed. This carries connotations of a rudimentary structure which enables many forms of constructive endeavour. And so along with its formal title of Garden Gallery, we fondly refer to it as an art shed.
Our brief was to establish gallery quality internal environments for the production and contemplation of art. As such the architecture was required to be robust enough to withstand the impacts of production but then also adequately recessive for the favourable contemplation of the resultant artefacts.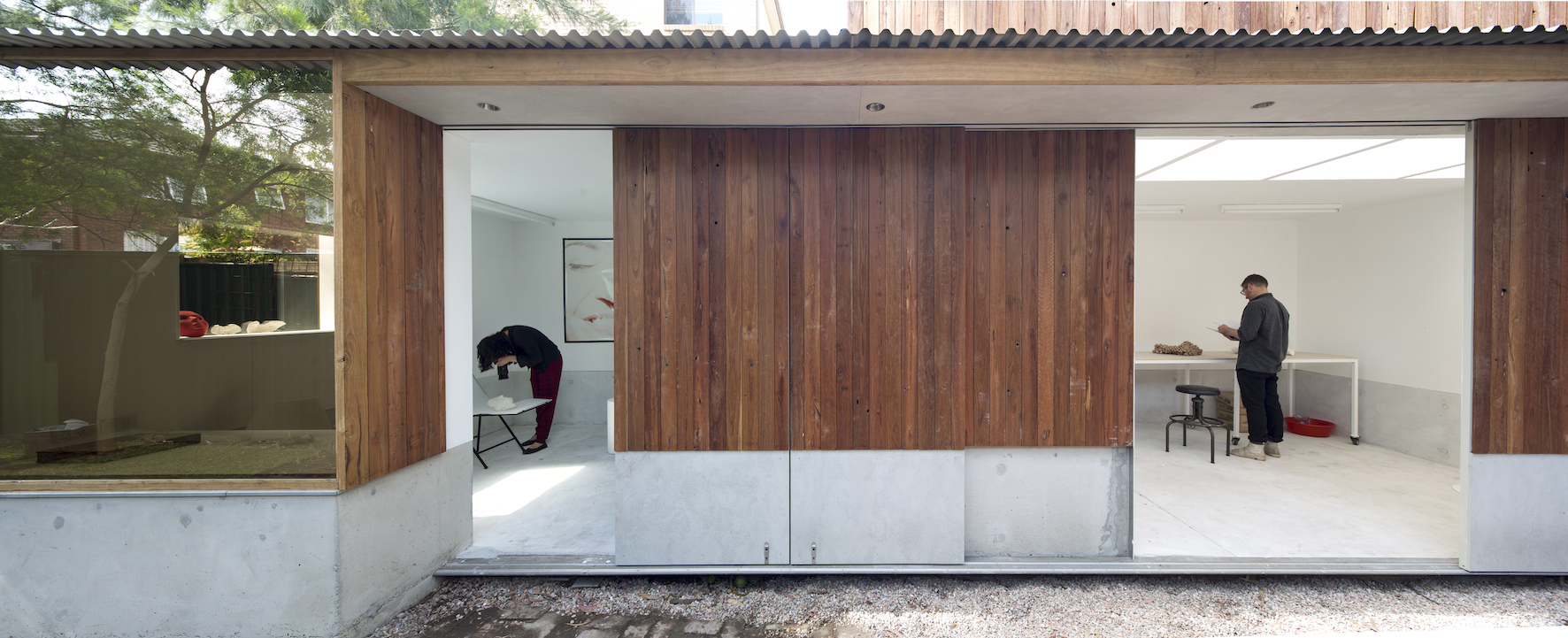 The Garden Gallery
Photo by Brett Boardman