Pilgrim's Shelter, Tokyo, Japan, July 2011 – Ahmed Belkhodja
Value Series
As part of the 2015 Value Series, the Queensland Emerging Architects and Graduate Network (EmAGN Queensland) and Bluescope Steel, were pleased to host international speaker Ahmed Belkhodja, from the Porto-based architectural studio, Fala Atelier. EmAGN Queensland has been organising local Architects to present their work in an informal bi-monthly event held at different venues around Brisbane.
Prior to forming Fala Atelier in 2013, Belkhodja, together with Filipe Magalhães and Ana Luisa Soares, worked with internationally-recognised architectural practices such as SANAA, Atelier Bow-Wow and Toyo Ito. Fala Atelier works with a self-described 'methodic optimism', informing their built and speculative work across a range of scales – from territories to birdhouses. The discussion was partnered with lovely montages, showing their design process from large competition entries to clever apartment fit-outs. The talk was a refreshing perspective from a young practice.
Words by Leah Gallagher
December 2014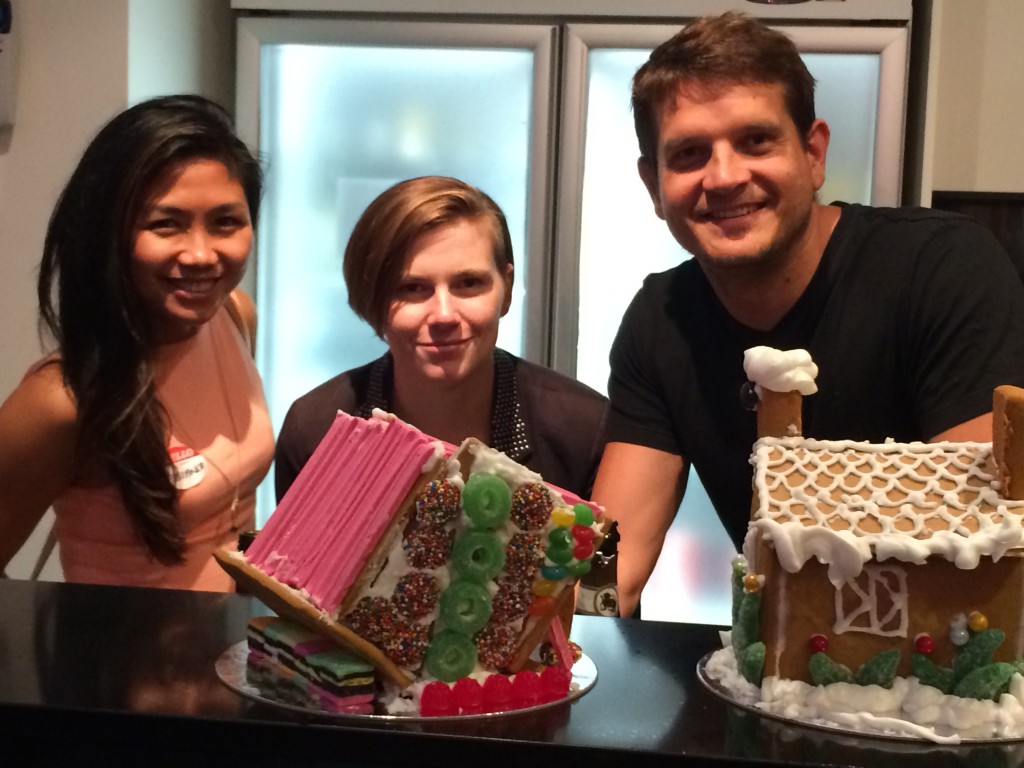 Image: Winning team – Populous and their upside down gingerbread house!
Thanks to all past and present EmAGN QLD and YAQ committee members who assisted to make the recruitment of the newly formed committee a success and congratulations to the newly elected EmAGN QLD committee members!
EmAGN Queensland Chair

Louisa Gee  –  m3architecture
EmAGN Queensland Finance Manager

Kirsty Hetherington  –  Owen and Vokes and Peters
EmAGN Queensland Communications Manager

Tahnee Sullivan  – Richards and Spence
EmAGN QLD Local Committee Members
Sam Bresnehan –  Marc&Co
Leah Gallagher  – Kieron Gait Architects
Nicholas Martoo  – Conrad Gargett Riddel Ancher Mortlock Woolley
Taryn McQueen  – Populous
Jessica O'Shea  – Arqus Design Pty Ltd
Emma Robinson  – Owen and Vokes and Peters
Christopher Schofield  – Medek Architecture Pty Ltd
Hannah Slater  – Architectus Brisbane Pty Ltd
David Watson  – Destravis Group
Febianca  – Populous
EmAGN Christmas drinks followed on after the local committee meeting to allow the committee to celebrate the newly elected committee, chair, finance and communications managers. The Christmas drinks were an opportunity to network with the EmAGN demographic in Queensland. To get into the festive spirit there was  a gingerbread architecture competition! Check out the gallery below for some creative interpretations on the traditional gingerbread house. Congratulations to the Populous team who took out the prize! A huge thanks to the Queensland Chapter and staff for hosting. Keep an eye out for some exciting new initiatives and events in 2015.

When
Thursday 11 December 2014
7.00 -9.00pm
Where
The Qld Chapter Office
70 Merivale Street
South Brisbane
RSVP by 8 December 2014
Please follow the link to register.
Refreshments provided
The Emerging Architects and Graduates Network (EmAGN) in Queensland are currently seeking expressions of interest to join the local EmAGN Queensland Committee and will also be electing a new chair. You may know this group by its local name – Young Architects Queensland (YAQ). EmAGN represents those emerging architects and graduates within 15 years of graduation.
To celebrate the formation of this committee and to allow the committee to get to know those graduate and emerging architects it represents, EmAGN Qld is hosting Christmas drinks and would love to see you there!
This is an opportunity for you to meet the committee that represents you, perhaps find out more about getting involved, or simply meet more emerging architects and graduates in your area for a drink and a chat. We even have some gingerbread houses to build and decorate for those so inclined! Just to get you in the festive spirit. There will also be the opportunity to suggest activities and initiatives you would like to see happen in Queensland. We would love for you to get involved.
Cheers!

CLOSING DATE EXTENDED TO THURSDAY 4 DECEMBER 2014!
If you are an emerging architect or graduate (within 15 years of graduation) the opportunity currently exists to join EmAGN at a local level in Queensland for the position of Local Committee Member.
For detailed information on the role and election process of Local Committee Members please review the EmAGN Reference Manual and to express your interest please review and complete the local committee Information and Application Kit. Both of these documents are available here!
Expressions of interest close Thursday November 27 Thursday 4 December and should be directed to emagn@architecture.com.au