As little as possible / as much as necessary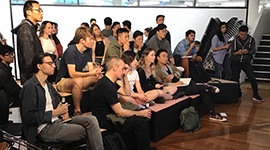 Phillip presented a project in three categories: Attached house in Bronte – new built house, Paper Bird – a renovation and finally, Caerleon – a heritage project. The students present were very pleased to hear Phillip talk about a successful design to a very hard brief from the client and planning rules, project management and design innovation.
As the SONA Representative for the University of Sydney we thank Phillip Arnold for his time and experience shared with the students.