Cocktail Napkin Competition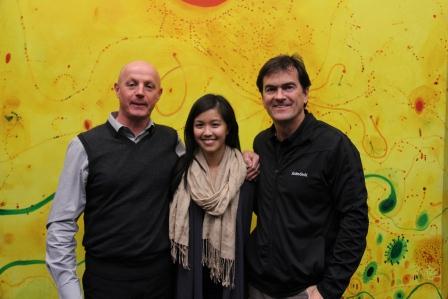 Cocktail Napkin Digital Sketch Competition Winners Announced
Thank you to all the participants of the Cocktail Napkin Digital Sketch Competition and congratulations to Cho Ling, from the University of Newcastle for her winning entry Skurv eatery & grum kit – grub drum kit. Cho is now the lucky owner of a Smeg FAB10 Happy Bar Fridge.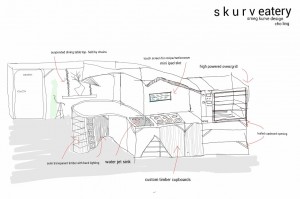 Cho Ling – Skurv eatery & grum kit – grub drum kit
Participants at the Nexus Student Congress were asked to follow in the footsteps of Renzo Piano who sketched amazing design ideas for Smeg on a cocktail napkin. Entrants used SketchBook Express (free) or SketchBook Pro ($3.99) to develop their kitchen ''sketch'' designs.
Thanks to our competition sponsors Smeg and Autodesk there were a truckload of prizes on offer including an iPad mini, Autodesk training for you and your class mates, iTunes vouchers, JB HiFi vouchers, and instant prizes such as Autodesk moleskin notebooks and Smeg laptop cases. The major prize winning sketches can be viewed below;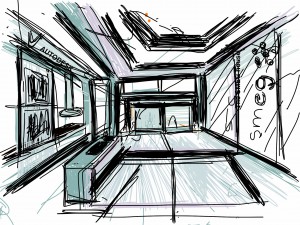 Dennis Cornea from Deakin University
Prize Autodesk Training for you and your class mates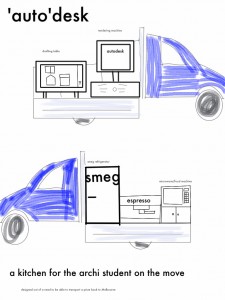 Darcy Zelenko
Prize Smeg Microwave Oven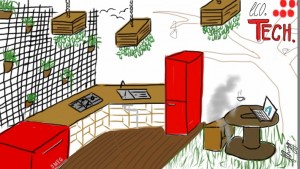 Sarah Chugg
Prize iPad Mini
About Sketchbook: Autodesk SketchBook is professional-grade paint and drawing application offering a full set of sketching tools and a streamlined user interface. Use it to digitally capture your ideas as napkin sketches or produce artwork on-the-go.  Visit www.sketchbook.com for more info.
Download now! (Free versions available)
• SketchBook for mobile devices (Android and iOS)
• SketchBook Mobile Express for tablets (Android)
• SketchBook Express for iPad
• SketchBook Pro for PC and Mac
Proudly supported by
 Cocktail Napkin Competition Gallery