Benefits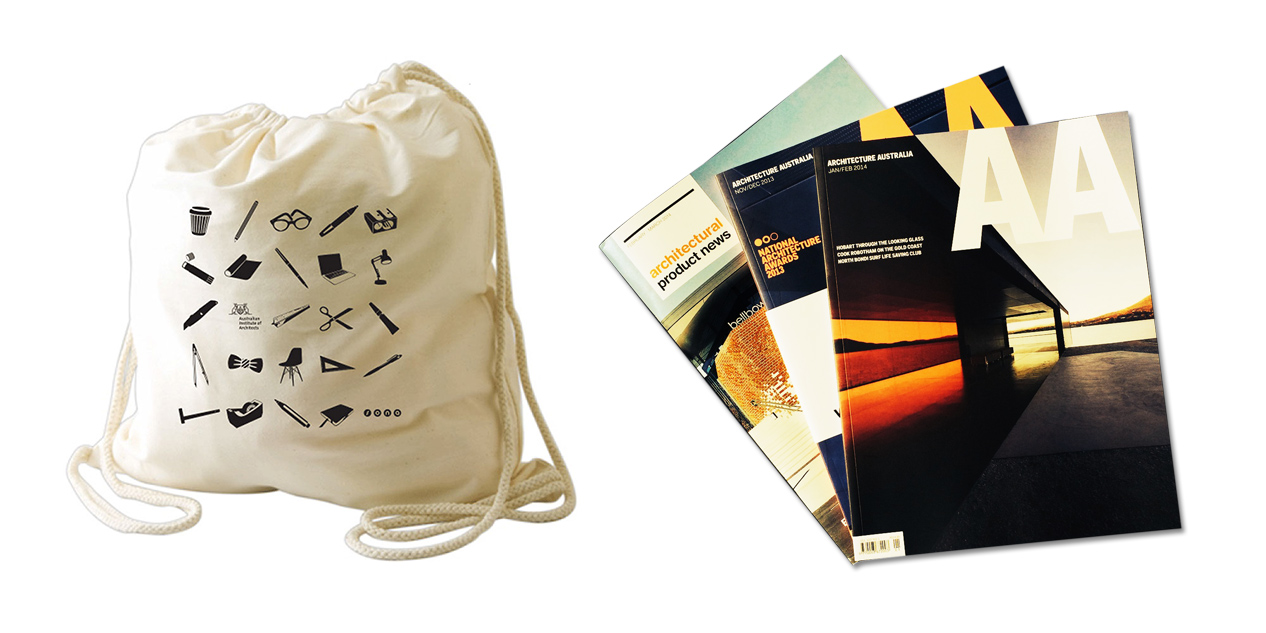 Show your SONA membership receipt to your SONA rep at your uni in the month of March to receive your free SONA carry bag! Check locally for specific pick up locations.
How SONA membership can help you with your education and future career!
Magazines – Read all about it
Learn more about the profession of architecture when you receive Architecture Australia and Architectural Product News delivered free to your door. You will also get a 50% discount on Houses, Landscape Architecture Australia and Artichoke magazines so you will know what's going on within the architecture and design industry.
One:One – Scale it up
One:One is a national design, build and mentoring event held in Semester 1. Work as a team to design and then create a 1:1 built outcome in a day. It's a 1:1 scale project with a one to one student:professional ratio. It's a great opportunity to ask questions and learn new skills. One:One concludes with a celebration with peers, the profession and the public!
SuperStudio – Sharpen your skills
Entry is free to SuperStudio, a national, 24 hour, team design competition held in Semester 2. The national prize for SuperStudio is flights to the Venice Architecture Biennale for your team! Get involved, meet new people in your chosen profession, make new friends and have a great time. Entry $50 for non-members.
Networking – Take note
SONA connects you to your peers and the profession through local and national events and competitions. Events may include peer to peer classes, design competitions, networking events at architects' offices, architectural speed dating for professional feedback on your work plus many more!
National Conference – Follow your compass
Travel to the National Conference Making in Perth 8-10 May 2014. Purchase a SONA early bird ticket to receive a huge discount and be exposed to new ideas. Get inspired by others who have chosen the same direction as you – architecture! Save up to $85.
Publishing Program – Expose yourself
Submit your work to the SONA Publishing Program via the SONA website and your project could be selected to feature on the SONA tab of the ArchitectureAU website! Expose your design project to the world and get your name out there!
Agony Architects – Looking for answers?
Members can now view Agony Architects, an online interview series with a range of witty and wise professionals answering the big questions like – How to get a job in architecture? How to start a business in architecture? With a broad range of questions commonly asked now answered by a range of architectural professionals you may find the answers you seek here (If you don't – let us know)!
Party – Dress to impress
SONA makes it easy for you to meet professionals and students from other year levels and universities with heaps of local events! The SONA opening party at the National Conference is sure to be the best one yet!
Acumen/EDG – Stimulate your mind
Receive free access to the Environment Design Guide (EDG, pronounced 'edge') and Acumen, the Institute's online practice advisory service. As a SONA member you can familiarise yourself with products the professionals use and have access to useful information for assignments. Worth a huge $315.00!
E-News – Get connected
Receive SONA e-news monthly to your inbox, informing you on items of interest and keeping you connected to what SONA is doing nationwide throughout the year. In addition, receive weekly Institute e-news updates on events, competitions, prizes, policies and industry news.
Advocacy – Influence the future
SONA provides student representation on state and national Australian Institute of Architects' committees. SONA executive and SONA representatives advocate on behalf of students, and in 2014 will focus nationally on policies for student internships and mentoring.
The Institute
SONA is the student body of The Australian Institute of Architects. Membership is viewed favourably by many future employers and participation in extracurricular programs shows a keen and positive engagement with your chosen profession.
SONA
You get out of your membership what you put in! Attend events, get involved, assist your local SONA rep, share your ideas for improving student education and make your university a great place to study!
There are many opportunities available, apply to be next year's SONA rep or the 2015 SONA National Conference Creative Director. Volunteer at the National Conference or the Venice Architecture Biennale – speak to your SONA rep today about the endless possibilities!