People – Student Congress
A reflection from People Congress Creative Director Tim Randall:
Monday 13th July
When closing Congress just over a week ago, it was hard not to feel a little emotional – a momentary waver in my voice may have betrayed my façade of being calm and collected. This was the culmination of 18 months of planning, packed into three days of speakers, workshops, conversations, movies, comedy, eating and drinking!
Bravely, we began an architecture Congress with non-architect Eugenia Lim and an 'up-yours' to regressive developers from Jeremy McLeod. We visited the antipodes with culturally specific regionalist architecture, re-examined our profession through the lens of those who photograph it and engaged in a memorable conversation with Sean Godsell. International and indigenous perspectives presented on day two, when Paul Pholeros, presented a great call to arms, rousing an impassioned huddle at lunch in Storey Hall. The Workshops, hosted within practices across the city were slightly beyond the comfort zone of the Institute due to their unknown nature. But with a politically charged brief and only three hours to achieve an outcome; they largely yielded great experiences. In the basement of the MSD, Anna Rubbo urged us to strive for equality as well as quality, and long after his words are forgotten, Des Rogers face will always ring a bell! (Pardon the pun) The afternoon entailed a re-examination of practice models to engage with the public through art, environmentally sensitive housing, and public works. With the larrikin spirit of Troppo in our sails, Mercedes, Darcy and I found enough loose change in our pockets to shout everyone a beer, wrapped in a PEOPLE stubby holder! The cherry on the Congress Cake was a fabulous address from the family centred heart of Takaharu Tezuka; "If you don't know happiness, how can you share it with others."
Reflection on the group photo from Day 1 at Fed Square; gave us as Creative Directors a real sense of; 'Yes, we actually did it!' For me the Congress has been an intense experience; something of a manifestation of my own architectural manifesto, a devotion to the now well-worn quote from Markus Jung. Everyone involved in this Congress has proven that architecture really is so much more than lines on a page or bricks on a slab. It is in architecture that we work and rest, it's where we fall in love, where we protest; architecture unites and divides, provides shelter and inspiration, architecture is about PEOPLE. I have been inspired by the contributions of our speakers, workshop leaders, each and every delegate and my fellow organisers – thank you; thank you to the PEOPLE of #people2015.
A huge thank you and congratulations to the 2015 Creative Directors:  Tim Randall, Mercedes Mambort and Darcy Zelenko.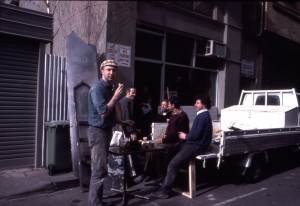 ---
The Biennial Australasian Student Architecture Congress has been a defining feature of the architecture student experience since the 1960s, providing inspiration at a pivotal point in architectural education.
2015 'People' – Melbourne
"Architecture is not about form but formations of people"

– Markus Jung
For more information on the 2015 Biennial Australasian Student Architecture Congress – People ( aka 'The Congress'or simply 'People') head to the official website where you can learn about speakers, tickets and the history of the congress.
---
VOLUNTEERS NEEDED!
The Australian Institute of Architects is calling for student volunteers to help at the 2015 Australasian Student Architecture Congress, People from Wed 1 July – Sun 5 July, in Melbourne. Volunteer tasks may include satchel packing, registrations, general enquiries, directing delegates, as well as general set up and tasks associated with the event.
In return for your help you will be provided with:
ONE FREE FULL CONGRESS PASS FOR THUR 2, FRI 3 AND SAT 4 JULY INCLUDING THE OPENING PARTY ON WED 1 JUL
(Please note you may be required for tasks which run throughout congress sessions)
 A TREND-SETTING EXCLUSIVE PEOPLE CONGRESS T-SHIRT (this seasons must have!)
If you're a motivated student member of the Institute/SONA and would like to get among the action, email people@architecture.com.au with the following information by COB FRI 3 APRIL.
 Current CV
SONA Member Number
Availability for each day;
Wed 1 July – Sun 5 July 2015 between 7.30am and 6.30pm
Two referee contacts
Please note as listed above, you will receive complimentary congress registration; however you will need to cover your flights, accommodation, travel and other expenses associated with travelling to Melbourne.
For more information on the 2015 Australasian Student Architecture Congress check out architecture.com.au/people and keep your eyes on www.sona.com.au.
---