HISTORY
A short history of the biennale
Downloads: list of winnders 1985-2010
The COLORBOND® steel Student Biennale grew out of the Royal Australian Institute of Architects (RAIA) Silver Medal for outstanding architectural studentship, which was established in 1960 and discontinued in 1977. Like the Silver Medal, it recognises outstanding architectural student design achievement.
The COLORBOND® steel Student Biennale Prize is the Institute's most established student design award and the idea dates back to March 1983 when Institute National Education Committee (NEC) member, Professor Neville Quarry, put forward a proposal to recognise excellence in architecture design and communicate this quality to students. This recommendation was approved by the Institute's National Council in late 1983.
The Student Biennale competition was launched in 1985 and initially named the Architecture Student Biennale Design Awards and Exhibition, a title it retained until 1992. The competition has been conducted biennially and sponsored since its inception by COLORBOND® steel.
The first COLORBOND® steel Student Biennale poster (1985)
In 1987 the competition publicity poster and Awards and Exhibition catalogue reflect the sponsorship arrangement as RAIA 'in association with the Coated Products Division BHP Steel International Group'. The winner of the RAIA Student Biennale Award and BHP Steel Building Products Award for Outstanding Merit received $1,500 while the four other awardees were presented with a certificate and plaque.
For the 1991-1992 competition the BHP Steel COLORBOND® steel Award featured a cash prize of $5,000. In addition the BHP Steel Design Prize became a trip to the USA or Europe (or destination of equivalent value) plus $1,000 spending money (total value: $3,500).
Following a review in 2001, the COLORBOND® steel Student Biennale was re-structured to place it 'at the forefront of technology'. For the 2001-2002 competition, students submitted their applications via the website, broadening the appeal of the competition. The single award attracted a cash prize of $8,000. The review also foreshadowed the future exhibition of student finalists' work through hard copy posters and CD imagery to be launched simultaneously to all Australian architecture schools/programs. This format proved unsuccessful and, responding to student concerns, the Biennale Travelling Exhibition was reinstated for subsequent competitions.
The 2010 COLORBOND® steel Student Biennale celebrates the 25th anniversary of the competition as the Institute's most established student design award. From the 174 submissions received, the highest number in the history of the competition, the jury selected ten finalists with the winner announced on 18 March 2010 at the inaugural Australian Achievement in Architecture Awards. To mark the competition's anniversary the Student Biennale Design Gallery website, showcasing prize winning and finalist designs, will be launched at a cocktail event in Sydney on 23 April 2010.
The fundamental principles and structure underpinning the competition have changed little during its lifetime. Spectacularly successful have been the formula for selecting works from architecture students currently enrolled or from the previous year, the jury process and short listing, the Biennale Travelling Exhibition and the unswerving support of sponsors BlueScope Steel/COLORBOND® steel and their variously named predecessors.
Since the COLORBOND® steel Student Biennale's inception the number of submissions received from architecture students varied considerably from one competition to the next. It more than doubled between the 1985 competition (42) and 1987 (125) then settled above a hundred for a couple more competitions. The trend was downwards however with 60 submissions in 1997-1998 and 51 in 2000. Electronic submission in subsequent competitions sparked a steady growth with 142 in 2006, 159 in 2008 and 174 in 2010.
Crucial throughout has been the commitment of eminent architects, academics and students who have comprised the juries. Their dedication to the onerous selection task has very much influenced the high regard in which the competition is held.
Technological developments have impacted over the years. Most significant of these was the introduction of electronic entries in 2001. The proposal at that time to abandon the Biennale Travelling Exhibition was partly technology driven as was the decision to switch to a COLORBOND® steel Student Biennale Design Gallery website to showcase prize winning and finalist designs in 2010.
Cutting edge design material has consistently promoted the competition and travelling exhibition to architecture students. The Student Biennale catalogue showcasing student and finalist designs was a hallmark of the competition from 1987-2008. The COLORBOND® steel Student Biennale logo was introduced in 2004 uniquely identifying and linking each competition.
And what of the 124 award winners and finalists over the 25 years of the competition? There are too many to mention all by name but almost invariably they have gone on to successful careers in various facets of architecture and are well known and respected in the profession both at home and internationally; names like Richard Francis-Jones who was one of the first COLORBOND® steel Student Biennale awardees in 1985 and 1991-92 BHP Steel COLORBOND® Award winner, Tony Chenchow. Richard has been the Design Architect for many highly acclaimed and Institute award winning projects. Tony's practice won the 2009 Institute's Robin Boyd Award for Residential Architecture. In describing what winning the COLORBOND® steel Student Biennale award meant to him Tony wrote: "The early recognition provided by the biennale has focused the direction of my career ever since. It has provided me with the confidence and exposure needed to start my own practice, pursue my passion for design and keep improving and developing my design skills."
The Institute and BlueScope Steel/COLORBOND® steel, through the COLORBOND® steel Student Biennale, are committed to a search for excellence in design and the advancement of architecture.
Ruth Wilson talks about winning the COLORBOND® steel Student Biennale in 1990

Previous winner:  (89/90)
Ruth Wilson
Director
Architectus, Melbourne
photo: Trevor Mein
"While the celebrated students at RMIT were messing with deconstructivism, I was concerned with how the built environment could affect people and illicit response. It was the 'humanist' theme that was not at all fashionable in the late 80s when I based my final year project on a building created from hum
an experiences, somehow translated into a set of tarot which generated a building form.
So I think I was not the only one surprised when my work received the BHP Student Biennale prize. It made me realize there were other audiences out there and it was amazing to receive a pat on the back from them. I was working at Millar Sainsbery Mulcair, a mid-sized commercial practice. My bosses were thrilled at my success, and it is with 5 of those guys I am now in partnership as a Director of Architectus in Melbourne.
In the interim I spent almost 8 years in Germany- leaving Victoria in 1992 when reportedly 50% of architects were out of work. It was the time of transition from manual drafting to CAD, I had an impressive folio (as we used to say) and got a job within a couple of weeks of landing in Munich. The BHP Student Biennale prize was of course an impressive part of my resume. I have now been with Architectus for 9 years, Director for 2, and have played key roles in projects such as the Qantas Flight Training Centre, the Australian Synchrotron, St Michael's Grammar Junior School, Melbourne Airport T2 Expansion and the Monash Centre for Electron Microscopy which won the Institute's national award for public architecture in 2009 – definitely a career highlight.
I've been called an 'all rounder' but don't spend much time alone with the yellow-trace these days. I'm working with teams, sorting things out, collaborating, convincing, cajoling, supporting those around me to do their best and trying to make something special out of every project. Architecture is a tough job. I was lucky enough, through the Student Biennale, to receive recognition early in my career and have continued to believe that recognition and reward is always possible if the work is good enough."
– Ruth Wilson, February 2010
Tony Owen's Student Biennale Experience

Previous winner: (89/90 & 91/92)
Tony Owen
Director
Tony Owen Partners, Sydney
"I received the BHP Biennale sheet and coil prize in 1989 and again in 1991. At this time this was the only award that recognised excellence in student design so winning was a tremendous honour. For me winning this prize was a validation that what we were designing was genuinely different. This gave me the confidence to continue to question what I was learning and to push boundaries.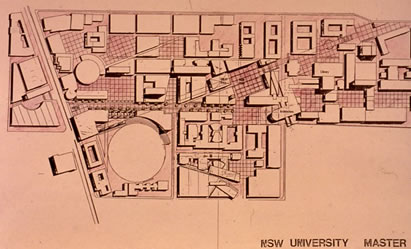 A slide from Tony Owen's 1991 submission A New Building for the Faculty of Architecture
I remember in particular that the Biennale catalogue was very important then. We would receive it and look at the best of what other students were doing and it gave us something to aspire to. Similarly the exhibition when it came to our school was a chance to get excited about what others were doing.
Later I travelled to New York on a Byera Hadley Scholarship and completed a Masters degree in advanced architectural design at Columbia University. Much like the Biennale, this set me along the path to where I am now.
I learned many things in that year. Firstly, I learned that what we were doing could be important. For the first time I was surrounded by people who genuinely believed that what they were doing could make a difference.
I also learned that designing was above all else a process and a way of approaching things. This is the notion that if you establish a series of steps, you can head down a path without knowing where it will lead you. This can take you places you would never have gone otherwise. When we started our own office we knew that if you establish a culture of design and a process, that design that is progressive and challenging will inevitably follow.
I am currently the director of Tony Owen Partners, a mid sized Sydney firm whose projects include St George Stadium, Abu Dhabi Ladies Club, Harley Davidson Headquarters, the Moebius house and numerous commercial and residential projects."
– Tony Owen, February 2010
Tony Chenchow on winning the Student Biennale in 1992
Previous winner: (91/92)
Tony CHENCHOW
Director
Chenchow Little
Photo: Katherine Lu
"When I received the Student Biennale in the fifth year of my studies at the University of NSW, I was unaware of its significance, or of the impact it would have on my future career.
The award was judged by both academics and members of the profession and therefore provided me with recognition and links beyond the boundaries of the university. For the first time in my career, I was introduced to leading members of the architectural community and forged contacts and relationships, which later assisted in my transition from university to practice. As a national award, with widespread coverage in publications and through a travelling exhibition, my profile in the profession and amongst my peers increased.
Through the biennale I became aware of the importance of the Architect's professional body 'The Institute or Architects' and the role it played in nurturing students of architecture and providing support, practice notes and promotion for the profession. I have remained a member of the Institute since this time and continue to participate in their awards programs both as a judge and as an entrant.
The early recognition provided by the biennale has focused the direction of my career ever since. It has provided me with the confidence and exposure needed to start my own practice, pursue my passion for design and keep improving and developing my design skills. Now, almost twenty years since receiving the Biennale award, I am encouraged once again by my practice receiving the 2009 Institute of Architects Robin Boyd Award for residential architecture."
– Tony Chenchow, March 2010