News + Events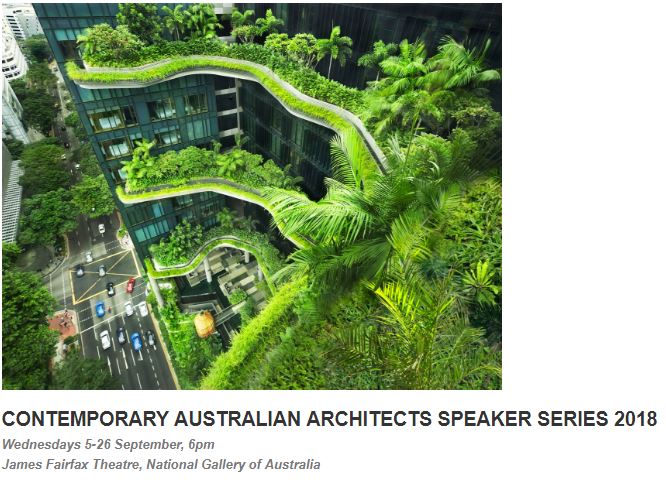 Wednesday 5 September: Shaun Carter from Carter Williamson Architects
Wednesday 12 September: David Welsh and Chris Major from Welsh + Major
Wednesday 19 September: Dillon Kombumerri, Principal Architect, Office of the Government Architect NSW
Wednesday 26 September: Richard Hassell from WOHA Singapore
Posted 23/08/2018
Single and Series tickets for the four lectures are on sale now. Don't miss out!
More info and bookings are online at nga.gov.au/architects
Image: Park Royal on Pickering, WOHO, photo Patrick Binghma-Hall
This event is brought to you by the ACT Chapter of the Australian Institute of Architects, The National Gallery of Australia and proudly sponsored by BCA Certifiers.

Past Events

Your Chance to Meet Gold Medalist Alec Tzannes AM LFRAIA!
2018 Gold Medalist Alec Tzannes will visit the ACT Chapter as part of a national tour supported by BlueScope.
Posted 23/08/2018
Alec was awarded the 2018 Gold Medal, the Institute's highest honour, in recognition of his exceptional body of work across a broad spectrum of architectural practice and his exemplary service and leadership within the profession, academia and related fields.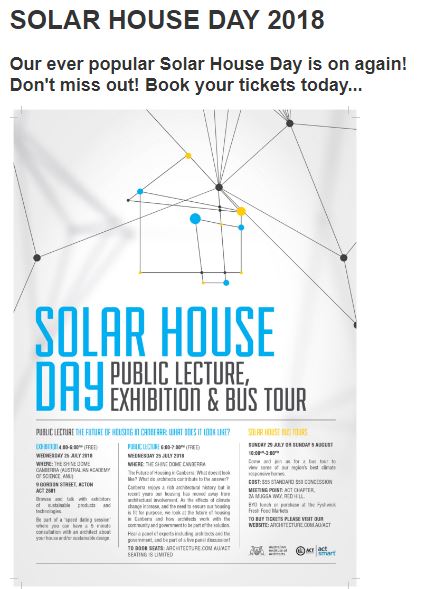 EXHIBITION AND PUBLIC LECTURE – Wednesday 25 July 2018
Be part of a "speed dating session" where you can have a 5 minute conversation with an architect about your house and/or sustainable design
Topic: 'The future of housing in Canberra: What does it look like?"
Lecture presented by Catherine Townsend (ACT Government Architect)and Antonio Mozqueira (Manager Climate Change at ACT Government) followed by a panel discussion MC'd by Andrew Verri.
Panel participants: Shannon Battisson (AIA), Catherine Townsend (ACT Government Architect), Antonio Mozqueira (Manager Climate Change at ACT Government), Glen Dowse (DNAA, HIA President)
​​
SOLAR HOUSE DAY BUS TOURS – Sunday 29 July and Sunday 5 August
Want to visit some of our region's best climate responsive homes?
Please note: Solar House Day is an annual event. If you missed out on this year's Solar House Day events or would like to attend again please email act@architecture.com.au and we can add you to our mailing list for next year.