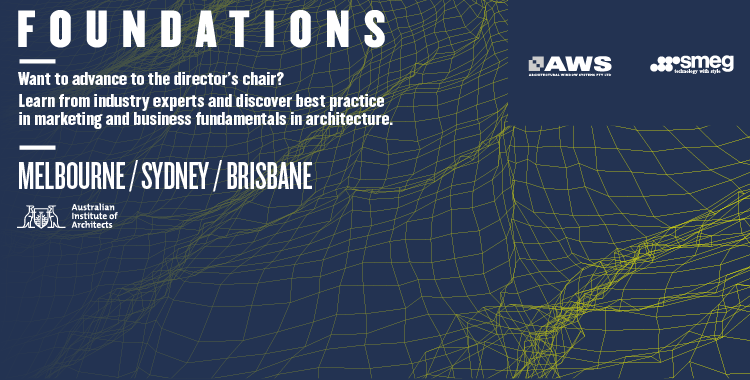 Supported by
Foundations 2016 Melbourne, Sydney and Brisbane
This program explored what emerging architects need-to-know in their first five years when considering their marketing and business fundamental needs for their practice.  Attendees could develop solid, practical tips and tricks in marketing and business fundamentals as our industry specialists share their expertise and address challenges that emerging architects are likely to face in their future.

Unit of competency: Practice Management
Keynote presentations:
Moore Stephens Australia provides accounting, financial management and auditing services and will address business fundamentals including:
Business structures
Financing your business
Financial management
Connecting financial plan to business outcomes
Systems and processes
The job cycle
Business growth and succession
Download their additional handouts for more depth on their presentation.
Ortolan is a creative agency specialising in brand strategies and positioning and have collaborated with successful architectural practices in Melbourne to develop their brands.  The marketing presentation will include:
Identifying brand identity
Developing marketing tactics
Understanding and engaging your target market
Panel discussion:
Following each keynote presentation, our industry experts will be joined in a panel discussion by successful practicing architects who will share their experience and journey in business fundamentals and marketing in architecture.
Brisbane:
Chairs: EmAGN QLD Representatives Leah Gallagher (Kieron Gait Architects) and Louisa Gee (Partners Hill)
Local Panel Members:
Shaun Lockyer – Shaun Lockyer Architects 
Rebecca Caldwell – May Tree Studios
Aaron Peters – Vokes and Peters
Alexandra Buchanan – Alexandra Buchanan Architects 
Sydney:
Chairs: EmAGN NSW Representatives Phuong Le (mpa) and Joseph O'Meara (BVN Sydney)
Local Panel Members
Greg Barnett – WMK Architecture 
Will Fung – CO-AP
Ben Peake – Carterwilliamson Architects
Christine Major – Welsh+Major
Melbourne:
Chair: EmAGN VIC Representative Thom McKenzie (Thomas Winwood Architecture)
Local Panel Members
Victoria Reeves – Kennedy Nolan
Chris Haddad – Archier
Albert Mo – Architects EAT
Thank you to all panel members for their time and insights.
In locations outside Melbourne, Sydney and Brisbane, stay tuned for more information on the availability of a recording of the session.
Terms & conditions for CPD events
1. The Australian Institute of Architects has the right to cancel or alter the dates, speakers or venue of an event.
2. In the event of cancellation, on demand video of the presentation or a refund will be offered to the registrant.
3. Applications for refunds require two (2) working days notice prior to the event.
4. People attending in replace of the registered person must pay the ticket fee associated with their membership type.
5. Please note that start and end times are an estimation. Some seminars may finish earlier or later than the proposed time.