Gold Medal Tour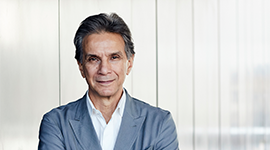 Alec Tzannes, has been selected as the 2018 recipient of the Australian Institute of Architects' highest honour, the Gold Medal.
The Gold Medal Meet and Greet
The Gold Medal pre talk meet and greet in the evening is an EmAGN event held at the same time as the Gold Medal talk is held in each state. EmAGN provides this opportunity to afford emerging graduates and architects the chance to sit down, eat, drink and communicate in an informal atmosphere with one of Australia's most recognised and distinguished architects.
The Gold Medal Prize + Tour
Nominations for the gold medal honour can be made via your local chapter manager and President, these are then directed to the Chief Executive of the Institute. Nominations are open for several weeks in the middle of each year, usually around June/July.
Nominations must include the name, biography, general history of the career and distinguished work of the nominee with evidence/examples of their work. Nominations will be considered each year for 5 consecutive years.
The Gold Medal is the highest honour the Institute can bestow. It was created to recognise architects who have given distinguished service by designing or executing buildings of high merit or who have produced work of great distinction resulting in the advancement of architecture, or have endowed the profession of architecture in such a distinguished manner as to merit the receipt of the Award. The honour is normally granted to architects in countries within the Australian sphere of influence.
The prize is a personally engraved gold medal which the Gold Medallist is presented with at the Australian Achievement in Architecture Awards. BlueScope Steel also supplies the winner with a gift to the value of $500. The winner is required to prepare their Gold Medal presentation and present it in every state around Australia as part of the Gold Medal tour.
At the completion of the tour and upon their return to their home state the Gold Medallist presents the AS Hook Address, a presentation on their experience and learnings from the Gold Medal Tour as the Gold Medallist. In addition the AS Hook Address is published in Architecture Australia (AA) magazine.
For further information on the Gold Medal, tour dates and past Gold medallists please see the Gold Medal webpage.