About
Melbourne Architecture Annual
Melbourne Architecture Annual (MA|A) is a week-long festival that engages with the public to create an open discussion about architecture, city building and sustainable communities. MA|A features a diverse program of events based around Federation Square and inner Melbourne that explores your city, your home and your architecture.
Organised by the Australian Institute of Architects Victorian Chapter, MA|A aims to raise awareness of the effects the built environment has on our lives and society, and encourage public discussion about architecture.
This year, MA|A coincides with Melbourne Knowledge Week (MKW), and several events will be included in the program of both these initiatives.
Melbourne Knowledge Week (MKW) showcases the creativity and diversity of our knowledge sectors and the important contribution they make to our economy, culture and vitality. It also aims to support the many people and organisations that lie at the heart of this city's dynamic knowledge economy.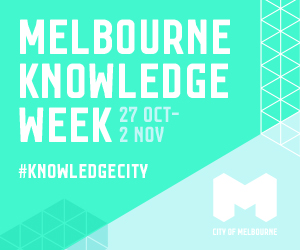 Australian Institute of Architects
The Australian Institute of Architects is the peak body for the architectural profession in Australia, representing 12,000 members. The Institute works to improve our built environment by promoting quality, responsible, sustainable design.
More information about the Institute can be found here.

For all media enquiries please contact the Victorian Chapter on vic@architecture.com.au or call us on 03 8620 3866