Congress History
The Biennial Australia and New Zealand Student Architecture Congress has been a defining feature of the architecture student experience since the 1960s, providing inspiration at a pivotal point in architectural education.
Here is a snapshot of the congress history over the years taken from Kinnard, Byron and Barnaby Bennett. 2011. Congress. Published by Freerange Press.
1961 | Sydney
Speakers: Unknown

"When I was a final year student (around 1960 or 1961) a group of us went to a Congress in Sydney about which I don't remember much except spending a night in the Phillips Street Jail after 3 of us went on an all-day crawl attempting to visit every pub in Sydney -which we regarded as a great achievement at the time." – Anonymous Professor of Architecture
Housing Developments around the Pacific; or "Social Aspects of New Housing" | 1963 | Auckland
Speakers: Aldo Van Eyck, Mike Austin, Peter Dalkton, Max Clark, Grahman Sheather, David Carr, R.M Wa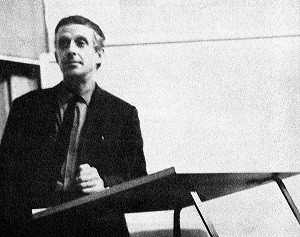 ite, G.J Fielding, Jeremy Beckett, Keith Sinclair, Gerhard Rosenberg

"Following the discussion on privacy and security, van Eyck spoke. Initially he expressed bewilderment at the presentation and claimed to be speechless. Then he embarked upon a lengthy criticism of the suburban house and what it indicated. Observing the plan of a generic New Zealand house he said that he could find no evidence of human interplay. He could not perceive the relationship between this house and its neighbour, and by ex¬tension, with the community and the city.
'If that is the aspiration of the New Zealander then I don't think that he has the right to occupy a country of such size and beauty,' Van Eyck said." Robin Skinner, 2000
New Materials, New Architecture | 1964 | Melbourne
Speakers: Unknown
"AASA was a major presence in architectural education in the second half of the 1960s…..welcomed in some schools and aggressively resisted, it seemed, by others. Its base became the AASA "Office/HQ" in Drummond Street, Carlton…a won¬derful old terrace house rented by a variety of students….including Lecki Ord and Ian Godfrey, the central driving force behind AASA. But students from most, probably all, schools were sent as reps to occasional AASA Council meetings. It was hard travelling for some, especially those from Perth, and money was scarce. Actually times were quite different from now.
This was a remarkably energetic national student organisa¬tion, run on a shoestring with enormous good will and commitment from afar….in a time when communication was by expensive trunk telephone calls, occasional telegrams and letters through the post.
The Conference was principally at Melbourne University. It was totally focused on Building Materials …which I suppose was good for sponsorship and some of the speakers were good at somehow suggesting to me, the first years student, that architecture held enormous new creative possibilities with some wonderful new materials….. My memory says Plastics were going to be important (as the Dustin Hoffman character in The Graduate was going to be told several years later)." – John Byrne
1965 | Sydney (UNSW & Canberra sidetrip)
Speakers: Unknown
"It began with a train trip to Queanbeyan where the train was parked in a siding and we were told this was the accommodation for two nights. Being il-prepared for this ….and without bedding (my excuse is that we weren't told!) …I froze the first night as the Queanbeyan temperature in May dropped below zero (actually in those days… to 28 degrees Fahrenheit). The next day…sunny of course…I bought blankets in an Army Disposal Store in Canberra's Civic which made the second night tolerable. I can't remember much about the conference ….held principally in the Academy of Sciences and maybe bits of ANU, I think, but the speakers?" – John Byrne
Education | 1966 | Perth
Speakers: Buckminster Fuller, Paul Riter, Cedric Price, Aldo Van Eyck, Jacob Bakema,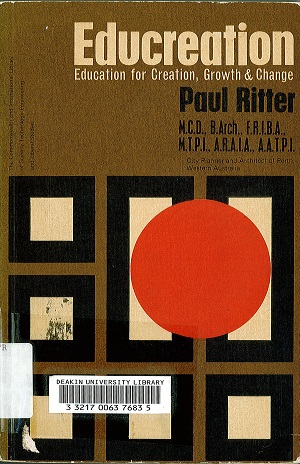 John Voelcker
"Buckminster Fuller said afterwards it was the most significant and meaningful meeting of students he had seen or heard of. 500 delegates came from as far as New Zealand, London and Singapore and 30 architects (including RAIA Gold Medal Winner of that year) defected from the RAIA convention to ours during the week."
"Four and a half decades later, I can still taste the magical contrast of an at least three hour performance by Bucky (my memory says four hours) about the design of the world, tech¬nology, cities, ingenuity, creativity, spaceships, global earth…….and, on the other hand, a jewel-like one-hour lecture by Aldo (with black and white slides) given to us with love and gentleness and insight and logic, about how to design a doorway for people." – John Byrne
City Synthesis | 1967 | Brisbane
Speakers: Tony Gwilliam, Geo Ponto, Harry Seidler
"We travelled by train from Adelaide for two nights and a day, arriving in what seemed a suburban station at South Brisbane. Quite a contrast in scale to the grand stations in Adelaide, Melbourne and Sydney we has passed through but, we were assured, this was as far as the line went. …it didn't yet cross the big river to the city centre. Another urban learning experience.
On the train trip back south towards Sydney, I drew the short straw and got to try unsuccessfully to sleep in the steel bar and wire mesh luggage rack of the shared apartment…why do I remember that more than the lectures?" – John Byrne
Creativity | 1968 | Hobart
Speakers: Unknown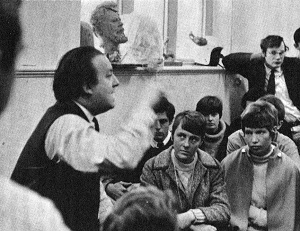 "We've also had troubles with our Institute (NZIA). A few years ago there was just no communication at all….. You know, both bodies could be dead. The recent interaction started with the students in one of our intermi¬nable political wrangles. We sent a telegram to the Institute, telling them that we had no confidence i them whatsoever. All of a sudden they started taking notice of us. They invited us to their meeting, and as a result of this we publish some rather rude little articles. We now have a member on the Council of the Auckland Branch of the Institute.. In fact, they have helped us in many ways. A lot of the money which paid for the NZ students to come over here was, in fact, raised by the NZIA. All this doesn't mean to say they are entirely good." – Bill Benfield (Auckland Uni)
AASA Adelaide Convention | 1969 | Adelaide
Speakers: Balkrishna Doshi, Gary T. Moore, Dr Jane Abercrombie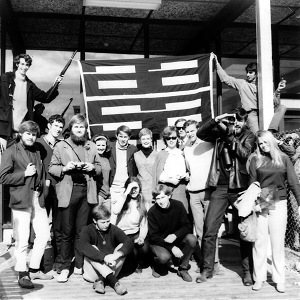 "We held it in a central city four-storey brick and timber warehouse (next to the Queen Adelaide Club, just back from the North Terrace boulevard and along the street from the two Schools) which was to about to be demolished by the Council for a multi-storey carpark.
We persuaded the Council to let us use it……and I remain convinced that contemporary regulations would not permit how we occupied it. …did wonderful student things in it. But it was tremendous and quintessentially inner urban Adelaide and brilliantly located.
We did the talking on the top floor, had social events on the street-level ground floor, and I am inclined not to talk about how some of the other floors might have been used."
1970 | Sydney
Speakers: Buckminster Fuller, Dennis Crompton, Christopher Alexander, Tony Dugdale
"These were dramatic times in the community and, as architectural students, we also had big dramatic rumbles, reported from time to time in the major media, involving students, the School, the university, graduates and the profession." – John Bryne
Sing Seventy | 1970 | Singapore
Congress abandoned
1971 | Auckland / Warkworth
Speakers: Sim van der Ryn, Serge Chermayeff, Doc Toy, Warren Chalk, John Scott, Roger Walker, Francis Woods, John Reid, Gordon Dryden, Jim Ritchie, Tom Taylor, Owen McShane, Paddy Grant
"We had in our midst one of the most formidable architectural thinkers of the 20th century and we categorised him, arrogantly, as one of the time warped greying talents, one of the clay footed. We didn't even give him former god status and by the time he had spent a few hours at Warkworth his shoes were certainly covered in clay. And we ignored him.
So what I say in hindsight is: Do your homework. Scratch beneath the surface. Find out what all of these people who have been so generously assembled by the organisers have to offer." – Kerry Francis, 2007.
Sunbury Rock Festival | 1972 | Sunbury
Speakers: N/A
Sunbury Rock Festival was an annual Australian rock music festival held on a 620- acre (2.5 km2) private farm between Sunbury and Diggers Rest, Victoria, which was staged on the Australia Day (26 January) long weekend from 1972 to 1975. It attracted up to 45,000, and is said to have signalled the end of the hippie peace movement of the late 1960s and the beginning of the reign of pub rock, which maybe meant being less naked, but just as wasted.
Aquarius | 1973 | Nimbin

Speakers: N/A
The Aquarius Festival was a counter-cultural arts and music festival organised by the Australian Union of Students and sponsored by Peter Stuyvesant. The first festival was held in Canberra in 1971, while the second, and last, was held in Nimbin, New South Wales in 1973.
It is often described as Australia's equivalent to the Woodstock Festival and the birthplace for Australia's hippie movement, which appears to have been a short lived.
1974 | Brisbane to Munduberra
Speakers: Unknown

"I was involved in the organisation of the Brisbane train congress in 1974 which started with a few days in a large tent on Stradbroke and then the train to Gladstone and back to Brisbane through Munduberra and Many Peaks. I don't remember if I have any pics but I have many many stories including the fact that my then husband and I wired the train for sound." – Di Ball
"A PNG colleague, Ken Costigan and I came down from PNG with some students and we joined the Maryborough leg of the journey. Prof Bal Saini, who was Head at UQ at the time was one of the speakers and he is still around." – Professor Gordon Holden
1975 | Lae, PNG
Speakers: Unknown
1976 | Canberra
Speakers: Unknown
1977 | Sydney
Speakers: Unknown
Marketplace | 1979 | Brisbane
Speakers: Peter Cook, John Dalton, Paul Oliver, William Turnbull, Wolfgang Preisser, Peter Myers, Peter Cor¬rigan, Martyn Chapman, Russell Hall, Peter O'Gorman, Gabriel Poole, Bob Nation, Phillip Cox, David Biernoff, Brian Woodward, Peter Bycroft, Adrian Boddy, Steve King, Ian Sinnamon, Pancho Guedes, Chris Paris, Kenneth Browne, Graham Thiedeke, Peter Skinner, Rod Carmichael, Tone Wheeler, Phil Gibbs
"Michael Keniger (now Deputy VC at UQ) and I were the joint convenors, but Brit Andressen also had a significant role. The 'Marketplace' theme was set up to have numerous parallel sessions so that people had to choose what interested them, and then to talk to others about what they missed out on……like a marketplace." – Professor Gordon Holden
The Next Wave | 1981 | Canberra

Speakers: Ross Brown, Roger Walker, John Mainwaring, Karl Fender, Everard + Kloots, Peter Stronach, Noel Robinson, Peter Myers, Russell Hall, David Mitchell, Gabriel Poole, Kai Chen, Edmund + Corrigan, Brian Klopper, Ian Athfield, Ric Le Plastrier, Rex Addison, Gary Forward, John Scott
"The conference structure is divided into two parts: emerging architecture in the morning with each architect speaking for up to one hour (no more!) on his/her work. These sessions run in parallel and can be structured in whatever way the 2-3 archi¬tects and the audience see fit. In the after¬noon the workshops are just that. We got about 20 topics listed, but that's only a start, and you can add any to the notice board in the town square…" – Tone Wheeler
Gone to Kiwi | 1983 | Auckland
Speakers: Unknown
"The really enigmatic elements of the Congress were the 30 guest speakers and the 450 registrants (includ-ing 120-odd Australians busy complaining about the cold summer and the beer).
"In a social framework riddled with think-big quackery and megolamania it is perhaps understandable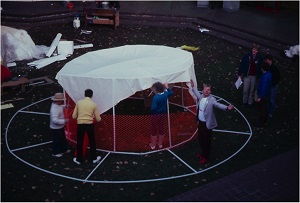 to be scared witless by the Paolo Soleri's of this world. It's easy enough to comprehend the motivation behind his work… But the nightmare is in accepting such a radical departure from today's reality and comprehending how Soleri's forms and spaces would work for people.
"One group with an honesty and directness missing elsewhere were the four women architects (Fiona Christeller, Christine McKay, Renate Block and Sarah Treadwell) discussing issues facing them. Despite widely varying backgrounds, the amount they had in common with their involvement in this male-dominated profession appeared to be a surprise even to them¬selves." – Professor Dorita Hannah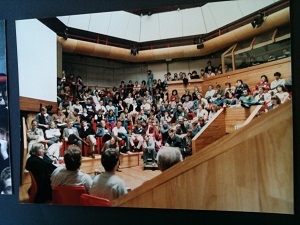 May West | 1985 | Perth
Speakers: Unknown 
The Jam | 1987 | Hobart
Speakers: John Scott, John Andrews, Ajit Manger, Prue Cotton, Michael Bar¬nett, Lindsay Clare, David Hensel, Andrew Conschens, Robert Morris-Nunn, Adrian Fitzgerald, Peter Wilmott, Annabel Bicevskis, Krzysztof, Peter Skin¬ner, Troppo, Keith Weatherly, Design Makers Cooperative TAS, Leigh Woolley, Keith Streames, David Morris, Patrick O'Carrigan, Barry McNeill, Tim Sinatra, Gary Forward, Geoff Warn, Bevan Rees, Rory Spence, Russell Hall, Christine Vadasz, Spence Jamieson, John Gollings, Paul Pholeros, Tone Wheeler
Beyond the Face | 1989 | Canberra
Speakers: Unknown
Circus | 1991 | Brisbane
Speakers: Richard Murphy, Douglas Cardinal, Peter Skinner
Alchemy | 1993 | Adelaide
Speakers: Bahram Shirdel, Richard Le Plasterier, Lise Ann Couture, Javier Mariscal
Crossings | 1995 | Perth
Speakers: Michael Sorkin, Dejan Sudjic, Sarah Wigglesworth, Jeremy Till, Neill Spiller, Geoff Warn
Would the 'crossing' theme and its promise to explore the intersections of cultural, sexual, technological, artistic and ritualistic loci with the thin and quickly disappear­ing trajectory of architecture, be successful? I am pleased to announce that in my mind, speaking as delegate and contributor, as consumed and consumer, it was.
"If a conference is deemed successful for educating, delighting and inspiring, wheth­er architectural, socially or philosophically, then this was one successful conference. It promoted optimism about the role of the architect of the future (whether virtual or real, but we can argue about that another time)" – Neill Spiller
morphe:nineteen97| 1997 | Geelong
Speakers: Wiel Arets, Itsuko Hasegawa, Greg Lynn, Ben van Berkel, Mark Goulthorpe, Mark Rakatansky, Sarah Chaplin, Sylvia Lavin, Marcus Novak, CJ Lim, Foreign Office Architects, Bernard Cache
After Crossing's 1995, Shannon Bufton, Shayne Lacy and Robert Colosimo instigate an ambitous touring reinvigoration of the national student network. Travelling through the major centres of architecture education, they gain crucial support and interest from the student body, while also holding discussions with RAIA, and former Australasian Architecture Students Association founders, to launch what would become the Student Organised Network for Architecture (SONA). By 1999, Shannon (as SONA's first President) and Shayne launch Terra: student architectures, a "national student journal," which published Issue 6 (2011).
Flashpoint | 1999 | Sydney
Speakers: Wolf Prix, Erick van Egeraat, Stephen Perrela, Ken Yeang, Vito Acconci, Chris¬tine Boyer, James Wines, Mark Wasuita (Diller&Scofidio), Richard Goodwin, Michael Tawa, Peter Brew + Michael Markham, Lynn Churchill, Lindsay Clare + Kerry Clare, Julie Cracknell + Peter Lonergan, Peter Davidson + Donald Bates (LAB), Brian Donovan + Timothy HIll, Peter Droege, Pia Ednie-Brown, Tony Fry, Janet Laurence, Merrima, Gabriel Poole, Leonie Sandercock, Rewi Thompson, Peter Stutchbury, Mackenzie Wark, David Week, Kriz Kizak-Wines
"Our attention will focus upon political agendas of 'spatial clarification' and their implication of ownership. This coagulation in the relay of movement (and the entropic processes that dissolve it into incoherence) will form a site for our intervention, and provide an open structure for our event. It is our hope that this conference will generate points of conflict and accelerated collapse; and that maybe, amongst the ruins of this contestation, new points of possibility will make themselves evident." – Adrian Lahoud, coordinator
NZ Script | 2001 | Auckland
Speakers: Unknown
States of Mind |2004 | Launceston-Hobart
Speakers:
Alisa Andrasek, Manabu Chiba, Ben Duckworth, Mark Dytham, Mehrdad Hadighi, Stephen Hendee, Shadi Nazarian, Jane South, Robert + Brenda Vale, Bostjan Vuga, Michael Bellemo + Cat Mcleod, Jack Birrell, Mark Burry, Justine Clarke, Eli Giannini, Timothy Hill, Adam Haddow, Drew Heath, Tom Heneghan, Stephanie Smith + Ken McBryde, Carey Lyon, Robert McBride, Lucinda Mclean, Andrew Maynard, Dillon Kombumerri + Allison Page, Ian Moore, James Jones, Robert Morris-Nunn, Shelley Penn, Paul Pholeros, Aaron Roberts + James Wilson, Gerard Reinmuth + Scott Balmforth, Peter Tonkin, David Travalia + Richard Leplastier, John Vella, Elizabeth Watson-Brown, Leigh Woolley.
A range of local, national and international speakers attended States of Mind: architects, designers, artists and writers, possibly one of the most impressive and comprehensive speaker lineups in history of the congress. After narrowly losing the hosting rights in Sydney in '99, UTas picked up the pieces of a failed 2001 conference, and despite none of the organisers having ever attended a student conference before, they sought to re-energise the tradition to ensure future generations of students had the opportunity to attend a conference during their student lives.

"My first Congress was States of Mind 2004 when I was an impressionable first year student – I went because my SONA Rep told me to. It was one of the single most influential events of my life. Like so many, I consider participation in a Congress to be the highlight of an education, the equal of an intensive master class or international study tour or exchange … SoM opened my eyes to the importance of what can perhaps most explicitly be thought of as a culture of radicalism." Patrick Stein (President of SONA 2007, and an organisor of Re:Hab, Canberra 2009).
Finegrain | 2006 | Queensland
Speakers: Unknown
CtrlShift07 | 2007 | Wellington
Speakers: Nathaniel Corum, Liang Jingyu, Ou Ning, Alexis Rochas, Bruce Stewart, Hugh Tennant, Mark Leong, Natalie Butts, Andrew Maynard, Ian Cassels, Nicky Hager, Rau Hoskins, Andrea Rickets, Ellen An-derson, Gregory More, Wan Azhar, Martmut Seichter, David Trubridge, Eoghan Lewis, Regan Gentry, Judy Cockeram, Mark Burry, Timothy Hill, Peggy Deamer, Jeffrey Inaba, Sam Kebbell, Ray Cole, David Mitchell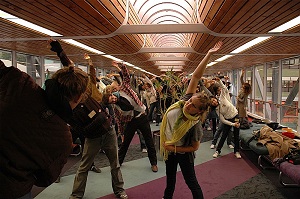 "Control Shift 07 was the most creative, stimulating and dare I say it – professional conference that I have ever attended by a significant margin. The stu¬dent organisers had their fingers on the architectural pulse with their establishment of the three confer¬ence streams – The role of the architect, the education of the Architect and Future environments. Architectural education came in for critique as well. The students assembled a stunning and diverse group of around 24 world, regional and local architectural innovators, critical thinkers and experts for the week long conference." – Mark Southcombe
"You guys were insane." – Andrew Maynard
RE:HAB | 2009 | Canberra
Speakers: Chris Bosse, Mahmoud Saikal, Barry Maitland, Alex Tzannes, Andrew Maynard, Louise Cox, Howard Raggatt, Howard Tanner, Jim Birrell, Karl Fender, Andrew Andersons, Wendy Lewin, Richard Johnson, Peter Tonkin, Tone Wheeler,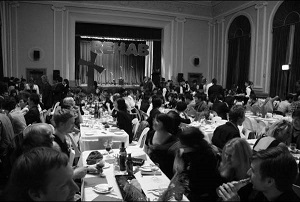 Todd Rohl, Marcus Trimble, Antionette Trimble, Andrew Nimmo, Graham Dix, Megan Dwyer, Nathan Judd, Chris Milman, Bronwyn Jones
The RE:HAB Congress was a unique and generous experience, because the organising managed to succeed in a very difficult objective, which is presenting a Survey of the architecture profession, and wider culture, to its delegates. I feel this was a generous and self-less act, and a highly commendable achievement. To compile so many high-quality speakers into the rather unforgiving programme is testament to their commitment to bringing the current state of affairs before the Congress." – Byron (in Spe[a]k Editorial, July 2009)
Flux | 2011 | Adelaide
Speakers: Dr. Ken Yeang, Nathaniel Corum, Charles Holland, Richard Briggs, Lara Calder, Dr. Esther Charlesworth, Stuart Harrison, Benjamin Hewett, Luke Jones, Peter Mallat, Andrew Maynard, Paul Pholeros, Brian Porter, Michael Rayner, Gerard Reinmuth, Melonie Bayl-Smith, Patrick Stewart, Rewi Thompson, John Wardle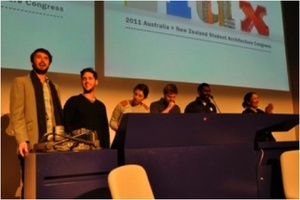 "FLUX created space to explore how we as (future) architects deal with a world of increasing natural disaster, handing us the mirror to our profession and the responsibility for positive change." – Sarah Lynn Rees
With a range of speakers drawn from diverse sectors of the profession, the content explored the positive ways of responding to challenging circumstances, both within a local context and the broader one of humanitarian and post disaster relief.
Nexus | 2013 | Newcastle
Speakers: Jan van Schaik, Hedwig Heinsman, Constantin Petcou & Doina Petrescu, Ian Athfield, Philippa Tumubweinee, Marcus Westbury, Rory Hyde, Richard Francis-Jones, Ingrid Richards & Adrian Spence, Clare Cousins, Lindsay & Kerry Clare, Peter Stutchbury, Lindsay Johnston, Peter Tonkin, Annabelle Pegrum, Timothy Moore, Stuart Harrison, Marcel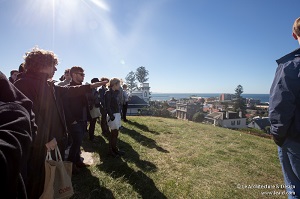 Acosta, David Gordon, Pedro Junqueira Vilela, Melonie Bayl-Smith, Cassandra Stronach, Chloe Beevers
"NEXUS proposed ways to contemporise our design approach to match our iGeneration mindsets, shedding the skin of the pre-global city to reflect and speculate on the urban condition." – Sarah Lynn Rees
Sprawl, post-industrialisation, globalisation and the digital age have changed the way we engage with the city, leaving 20th century models behind. Nexus presented an opportunity to reflect on the past, experiment with the urban condition and imagine viable alternatives for what the city may come to mean.