7 May 2017
By Michael Smith, The Red and Black Architect
The final day of the 2017 National Architecture Conference began with Vietnamese architect Vo Trong Nghia presenting two areas of exploration. Firstly a body of work exploring the integration of vegetation with buildings and a secondly a selection of projects that explore the possibilities of bamboo in contemporary structures. As excellent as Nghia's work was, his talk was unfortunately very similar in content to his 2014 presentation at the Institute's National Conference in Perth.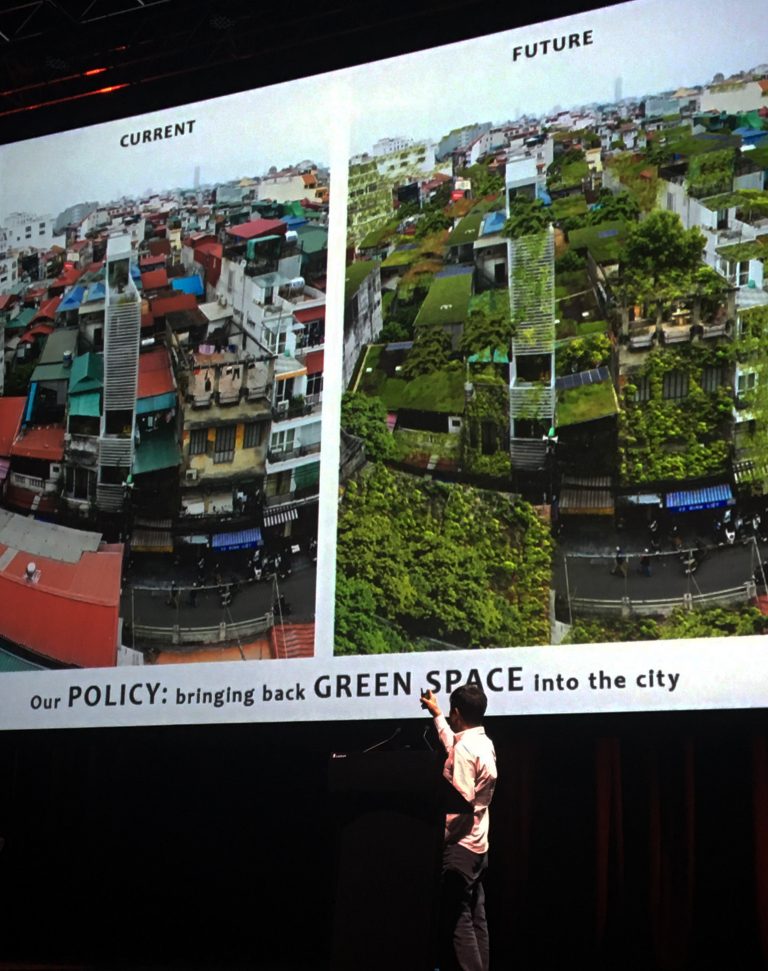 Next up was the lightening speed session with Huw Turner and Penny Collins of Collins and Turner, Emma Williamson of CODA, John Wardle of John Wardle Architects and Neil Durbach of Durbach Block Jaggers. This session had a clear focus on how collaborations occur which was clearly missing from the equivalent session from the previous day.
Huw Turner and Penny Collins discussed how they would both design a project separately before coming together and finding common ground. This process was discussed through the lenses of two of their projects, The Waterloo Youth Centre and R1, a multilevel restaurant in Barangaroo.
'We collaborate with artists and explore their narrative to enhance ours'
John Wardle
John Wardle discussed the importance of setting up protocols for engagement and using technology to leap large boundaries with overseas collaboration. Whilst Neil Durbach recalled pondering the creative collaboration of the Beatles versus the solo career of Bob Dylan. The standout from this session was the refreshingly honest reflections of Emma Williamson, looking back at 20 years of practice at Coda Studio. Her talk touched on the four stages of her deliberately collaborative practice, the difficulties of directorship and the aspirations that underpin their work.
'True collaboration has many voices'
Emma Williamson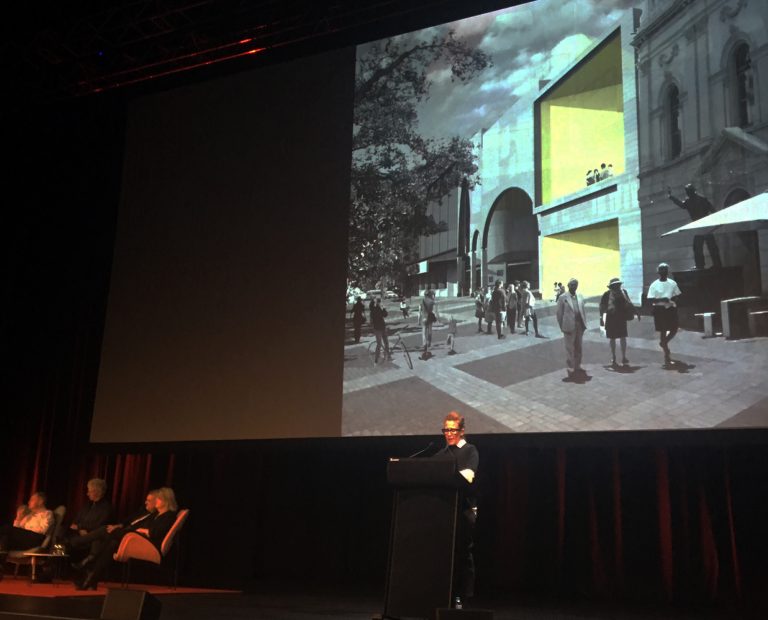 Possibly the best presentation of the conference came from Rahul Mehrotra of RMA Architects in Mumbai. In a high speed burst of ideas, Mehrotra laid out the challenges of architecture in the 21st century through the lens of India's cities. In Mumbai's contradictions and dualities of wealth and poverty, architecture tends to only deal with one side. It panders to capital. Compounding this issue is the almost incomprehensible scale of Indian urbanization as well as a huge population shifts that occur with the seasons.
'In India, we all know the seven mega cities … but the real urban time bomb is that we have 400 cities pushing populations of 1 million people. Which means we will have 400 million people living in cities we cannot name. Most Indians cannot name these cities, it is completely off our radar.'
Rahul Mehrotra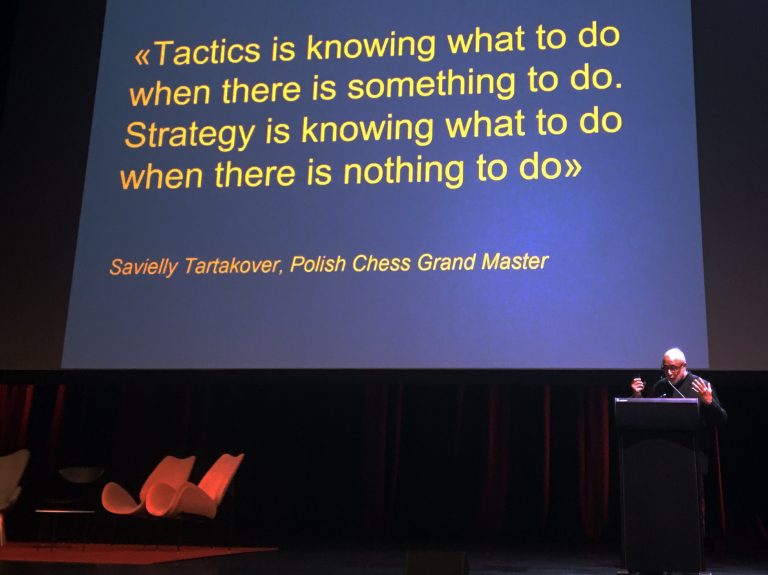 In the context of these challenges, Mehrotra presented his work as an architect and advocate. Through publishing books, instigating heritage protections and facilitating an arts precinct in Mumbai, he has become of force of positive change. Importantly he also discussed a few things that didn't work as expected and the lessons that could be learnt from these experiences.
A new inclusion in the program this year was the presentation of several of the Institute's national achievement awards. The most significant of these awards was the 2017 Gold Medal, which was awarded to the very well deserving Melbourne architect Peter Elliott.
Next to the stage was Anupama Kundoo who presented an incredibly rich body of work focused on material. Much of Kundoo's work is the skillful integration between low-tech and high-tech materials and processes. This work is only possible through first gaining a deep understanding of the materials in a 'hands on' practical sense. Kundoo noted that many high tech engineers are now struggling to grapple with traditional low tech materials.
'Think for a long time, build quickly'
Anupama Kundoo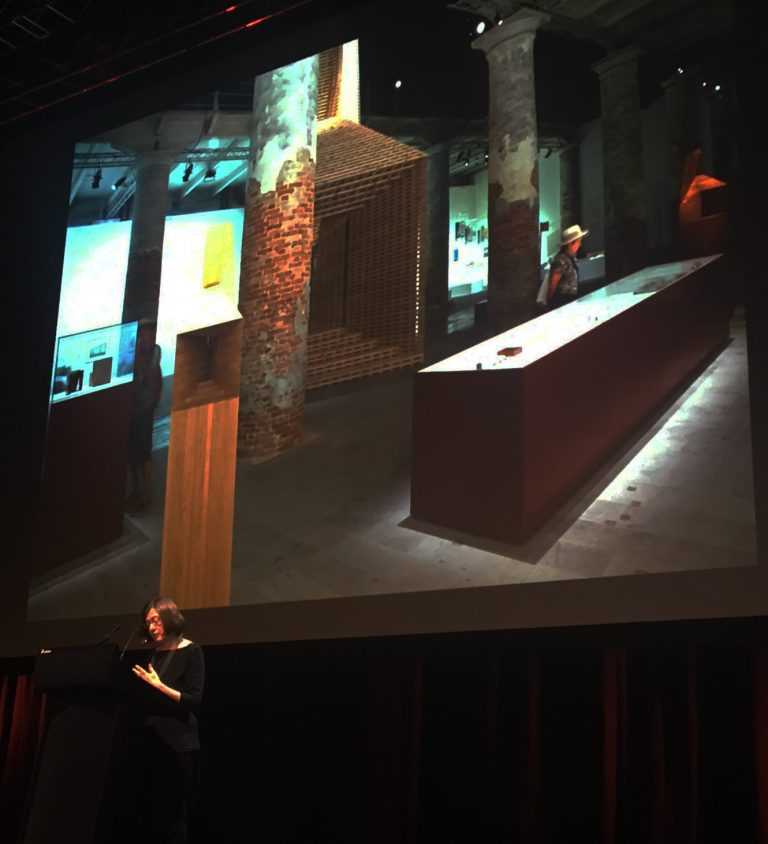 The final speakers of the conference were Sheila O'Donnell and John Tuomey from O'Donnell + Tuomey in Ireland. Whilst presenting their projects the audience was transfixed by Sheila O'Donnell's potent watercolor drawings. They held a richness and strength whilst also expressing the poetic.
The pick of their projects was the London School of Economics, a large scale university project with intricate brick cladding. At the outset it was decided that no bricks would be cut in the entire building. This required an extraordinary level of detailed planning on the 'special' and the 'special special' bricks that would need to be manufactured.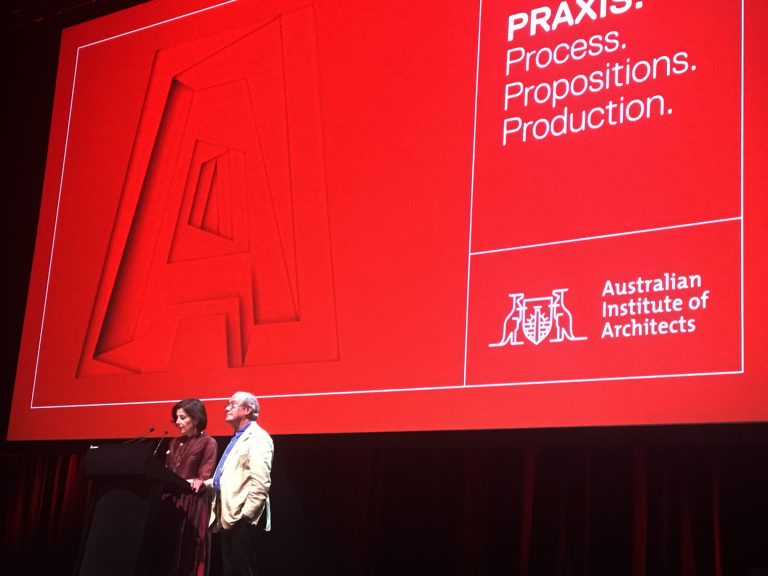 Wrapping up
For a program with only 7 international speakers, and a very broad theme, the conference delivered beyond expectations. Congratulations and thanks must go to Ken Maher and Helen Lochhead for all their hard work in executing this enriching event. The inclusion of several national achievement awards including the presentation of the Institute's Gold Medal presentation, was a welcome evolution. Whilst over 1100 people attended Praxis, the pricing structure and the removal of the 'early bird' option made attendance a more difficult ask for many. Hopefully this can be reassessed for next year.
In 2018 the Institute's conference will be held at the Gold Coast under the curious title of 'The Edge'.
Architecture is for everyone.
This post also appears on The Red and Black Architect.
All views expressed are those of the individual author and not the Institute.