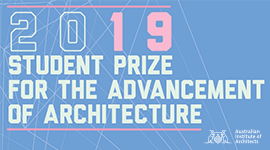 The aim of the prize is to recognise those whom:
provide leadership amongst fellow students and/or within the profession
promote the appreciation and advancement of architecture
provide a forum for discourse and networking
promote architects in the community
advance the education of Australian architecture students
The nominee should demonstrate high achievement in one or preferably more of the following categories:
Leadership – chairing forums; organising student groups; effective representation of students on Institute and/or university committees; organising student activities such as conferences, competitions, camps, architecture weeks, exhibitions, architecture revues, guest lecture programs.
Publication – editing, designing and/or producing a student or professional publication; student design and theory work; student opinion; student reviews of works of architecture; letters to the editor in prominent newspapers; articles in Architecture Australia and/or Chapter magazines; articles in student (campus-based) newspapers/magazines; digital publications.
Community – promoting architecture and/or architects to the public; involving students with community issues; involving the community with architectural issues.
Education – involvement in education activities that have consistently advanced architecture.
Entries for the 2019 Prize are open and will close at 5:00pm AEST on Friday 17 August 2018.
If you would like to participate click here.