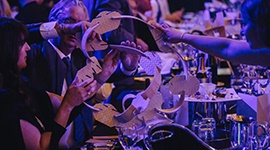 After months of discussing, designing, tweaking and constructing the 60 centre pieces were put to the test. The success of the concept and design was immediately apparent as majority of guests were engaged almost as soon as they were seated.
As the theme for the project was Reflections, the emphasis of the Torrens River was an obvious starting point for the design, being the main source of water running through the city and the location in which the event was held. Each centre piece consisted of a square base topped off with an etched acrylic sheet, intentionally angled to roughly match the contours of the area surrounding the Torrens River. The map created by the top surfaces of each base was only apparent when all the bases are aligned side by side in a grid pattern. Each base also housed a set of lights and held a piece of ply in place to which attendees could attach additional pieces of ply and bendy ply to create an abstracted structure. Slotted connector ply pieces were laser cut and etched in the shapes of iconic Adelaide architecture of old and new, and held the structures together. All the above would not have been possible without the help of the SONA Member Student Volunteers:
University of Adelaide
Ray Chen, Angelia Li, Esther Wong, Chantelle Fry, Stephanie Clutterbuck
University of South Australia
Robin Serrao, Selina Phillis, Megan Ashmore-McIntee, Ricky Sallemi, Beomjun Kim
A special thank you to the following individuals from the University of South Australia, without their leadership, technical expertise and dedication this project would not have been possible: Andrew Lymn-Penning, Jarrod Allen, Kaden Lange, Jake Jenkins, James Rochow.