Other Architects in Venice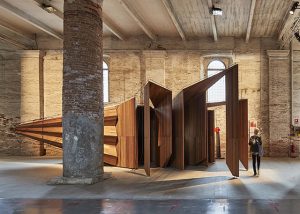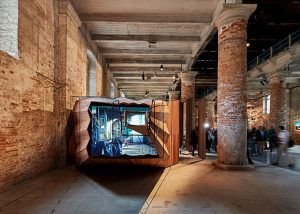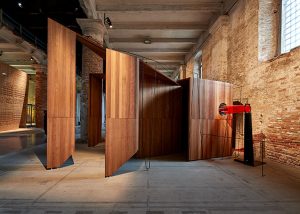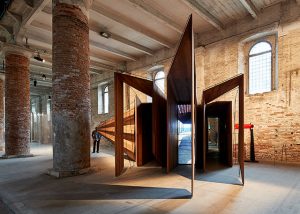 Somewhere Other by John Wardle Architects
Revealed in Venice
'Somewhere Other', the compelling installation by John Wardle Architects (JWA), has opened as part of Freespace, the 16th International Architecture Exhibition – La Biennale di Venezia.
Within the first few days of the Biennale, it is evident that this original work with its multi-sensory, multi-disciplinary, multi-layered exploration of architecture, has achieved its design intent to transport visitors to 'somewhere other'. JWA have been delighted by the response of many who have interacted with our exhibit on this international stage of the Arsenale. Visitors, through their own curiosity, have been drawn into a series of portals, that play with perspective and reflection with references that enmesh Venice and Australia.
The 'Venetian portal' with embedded chrome cone tapers outward. Beyond this an enormous mouth-blown Murano glass tube of vivid orange playfully redirects your view. Another portal is inspired by masks; the Venetian mask and legendary Australian bushranger Ned Kelly's iron helmet. In these ways, the visitor is transported momentarily "upside down at the bottom of the world", as Australia was described by DH Lawrence, a quote that frames the dialogue within Somewhere Other.
Of surprise has been the connection so many visitors have made to the sensory nature of this large timber structure that exudes the scent and colour of the Australian bush, while ambient sounds emit from the mesmerising films combined with landscapes created by JWA's projects. The work is a collaboration with artist Natasha Johns-Messenger, film makers Coco and Maximilian, steel fabricator Derek John, Jacaranda Industries and Venetian master glassblower Leonardo Cimolin.
John Wardle says "Somewhere Other is an elaborate instrument to bridge across distance, it invites the visitor to enter and experience 'somewhere other' spatially rather than simply as an object."