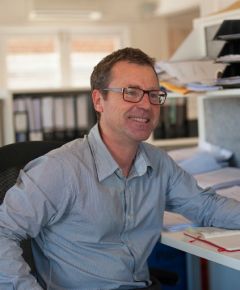 Firstly I must thank and admonish outgoing NSW Chapter President Shaun Carter. Thank him for an excellent and committed term where he has worked so hard in raising the public profile of the profession. And admonish him for being a tough act to follow for the next president. Thanks for that Shaun.
After two terms and four years as a NSW Chapter Councilor, I believe that I have the experience and understanding to step into the role of NSW President. I have chaired several committees, most recently the Editorial Committee, and have been an active member of Chapter Council.
As a practitioner, I co-direct a small design based studio with experience across a broad range of scales and type. I understand the day to day of running and maintaining a practice.
It has been a difficult few years for the Institute. There is a new governance structure in place and the next two years must be a time for consolidation and regaining the trust and respect of the members in NSW. That will be my priority.
I want to build on Shaun's legacy of public engagement and informed critique. I want to engage with the NSW Government initiative for design-led planning and look forward to discussing the profession's role with the new Planning Minister Anthony Roberts and Government Architect Peter Poulet. Our new Premier Gladys Berejiklian has said that affordable housing will be a major focus for her, and again the profession has much knowledge and skills that can be utilized to help frame a sensible discussion.
It concerns me that so many good architects active within the Networks do not see value in being members of the Institute. I want to strengthen ties with the Networks through continuing Shaun's initiative of taking Chapter Council on the road. These forums allow us to listen, but also explain the work that the Institute does. Likewise I would like to see A+ membership picked up by more of the larger practices. Membership is the core of the Institute – and the larger it is the stronger the profession will be.
In the restructure of the Institute we must acknowledge that Newcastle and Country divisions have not gone without impact. The Institute is committed to maintaining member support throughout NSW, and to this end I want to work closely with Country and Newcastle to bring former members, and more, back into the fold.
Lastly I think we need to improve dialogue between the profession and universities. Practitioners have always had a central role in educating and framing what is taught, yet that role continues to diminish.
It will be an honour to fulfil this role on behalf of the NSW members of the Institute.
Andrew Nimmo
NSW Chapter President Elect