This weekend 11 teams of architecture students came together at the University of Sydney to develop design concepts for SuperStudio 2017. The annual design competition brings together architecture students from NSW and ACT universities to form teams and develop design concepts in response to a brief, which is kept secret until the competition is launched! Final design concepts are presented to a jury of architects, industry professionals and university academics to compete for 2017 SuperStudio prizes!
While the brief is still under wraps for future SuperStudio events this month, we are pleased to announce the winners of this year's Studio! Three teams were selected by the jury for first, second and third place prizes: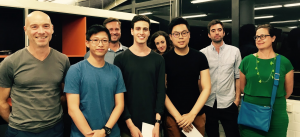 FIRST PRIZE: Awarded to Justin Pak, Justin Wohl and Yim Hoi Fung Ivan (UNSW)
– winning a weeks' worth of mentoring with Bates Smart or Crone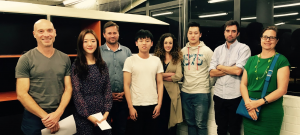 SECOND PRIZE: Awarded to Claire Jo, Jinlong Li, Geremy Yip (UNSW)
– winning tickets to the Australasian Student Architecture Congress Agency 2017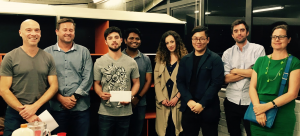 THIRD PRIZE: Awarded to Akshay Salunkhe (University of Sydney), Estefano Bonfante (University of Sydney) and Winten Xu (UTS)
– winning a tour with Bates Smart of 155 Clarence Street – an award-winning adaptive reuse refurbishment to an 8 storey heritage commercial building
Congratulations to all this year's winning teams, and all others that participated over the weekend. We look forward to sharing details and images of the winning proposals soon!
A special thanks to those that gave up their time as jurors and team mentors, including representatives from Crone, Bates Smart, EJE Architecture and Jacobs. Both groups provided invaluable support and feedback to the teams over the weekend.
2017 SuperStudio Jurors
Ariana Rodriguez, Crone
Dr Dagmar Reinhardt, University of Sydney
Fraser McKay, Bates Smart
Shane Smede, EJE Architecture
Vaughn Lane, Jacobs
2017 SuperStudio Team Mentors:
Chloe Rayfield, TKD Architects
Georgia Jamieson, UTS Program Management Office
Gemma Savio, savio parsons architects
Dmitry Troyanovsky, Tonkin Zulaikha Greer Architects
Yuliya Chistyakova, Mirvac Design
Ksenia Totoeva, TZG Architects
Ben Coulston, Terroir / University of Queensland
Hannah Slater, Neeson Murcutt Architects
Matilda Leake, Bates Smart
Jamileh Jahangiri, TKD Architects