2016 National Architecture Awards – Sustainable Architecture
Educational and public projects were the award winners in the Sustainable Architecture category of this year's National Architecture Awards. The sole residential project, Project Zero, was awarded a national commendation. The University of Queensland featured in the awards for the second year running, this year with the new multi-award winning Oral Health Centre.
2016 Jury chair, Jon Clements, reflected that the award entries overall 'had clear commitments to their clients' aspirations but also to environmental and social sustainability'.
David Oppenheim Award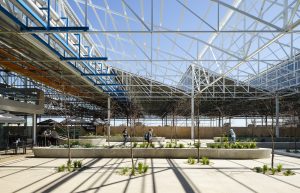 Tonsley Main Assembly Building and Pods (SA) – Woods Bagot and Tridente Architects
Urban renewal project, Tonsley Main Assembly Building and Pods by Woods Bagot and Tridente Architects, received the David Oppenheim Award for Sustainable Architecture and was praised by the jury for demonstrating 'an exemplary commitment to sustainability outcomes'. Central to the project was the adaptation and re-use of the eight-hectare structure, formerly housing the Mitsubishi car manufacturing plant – acknowledging the social history of the site, while minimising environmental impact. 'Sustainability principles are at the core of the development, including clean technologies, sustainable energy, sensitive water design, passive ventilation and natural lighting. Interconnected paths for cycling and walking and access to public transport are also well considered'. 'Tonsley is the first Australian urban renewal project to be granted a six-star Green Star Communities certification award'.
For an overview of Green Star Communities, refer EDG 84 SJ 'A summary of urban assessment tools for application in Australia'.
The SA Chapter are presenting a tour of the Tonsley Main Assembly Building and Pods on Dec 1.
Details and register here.
National Award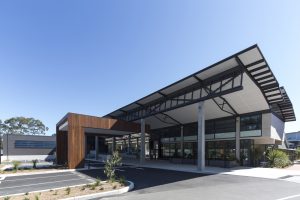 Northern Beaches Christian School (NSW) – WMK Architecture
'Northern Beaches Christian School has been reconfigured to allow for both indoor and outdoor learning environments'. The architects have reconnected existing classrooms and established new collaborative spaces under an overarching canopy. The outdoor spaces are protected by the prefabricated steel structure, which also incorporates energy generation and rainwater harvesting. A series of multi-level pavilions provide a variety of dedicated new spaces together with the flexible outdoor learning spaces that encourage freedom of learning and interaction, and a connection to the local environment. 'Sustainability goals are advanced by the students' ability to actively engage with and monitor the building's performance'.
National Award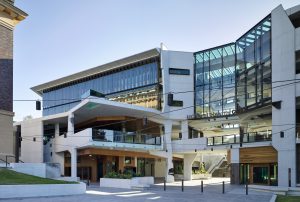 University of Queensland Oral Health Centre (QLD) – Cox Rayner Architects with Hames Sharley and Conrad Gargett Riddel
Following recent directions in health design that promote a salutogenic approach, the University of Queensland's Oral Health Centre was noted for 'contributing to a feeling of calm' through 'an inviting sequence of spaces that engage students, staff and the public. Collaborative learning environments, laboratories, interconnected pathways, study spaces and common areas connect with the outside environment, letting in ample natural light'. 'This six-star Green Star rated building incorporates numerous sustainability initiatives, including passive design, solar power, the re-use of old building materials and on-site water treatment'. The Centre also took out awards for Interior Architecture and The Daryl Jackson Award for Educational Architecture.
National Commendation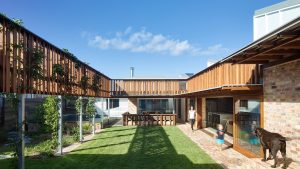 'Both a new home and a significant alteration to an original structure', this Brisbane house was commended by the jury 'for its thoughtful commitment to sustainability principles within a suburban setting', including the use of reclaimed building materials, on-site water treatment and solar energy initiatives.
For the full listing of the 2016 National Architecture Award winners, click here.
Quoted words by National Architecture Awards Jury 2016.