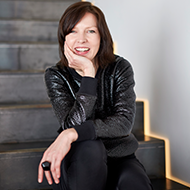 9 April 2018
Hello! Well March proves to be the month of on-ness with the Vic Architecture Awards Presentation to the Juries, Melbourne Design Week, the university year commencing and lots of lovely weather to continue enjoying.
WE ARE PROFESSIONALS AND ALWAYS LEARNING
Over the past month I have been exposed to many statements, opinions and questions. Two that have hit home are "what do we get for our membership" and "you are a volunteer".
These two questions/statements are inextricably connected.
Applying the word volunteer to those who are involved in a member's organisation providing a professional service and yet not paid is a statement of fact. However, if I was to consider my involvement with the Institute simply as a one-way street providing my time to a cause that I may only gain a sense of fulfilment for 'helping out' then I suspect I would struggle to participate in the capacity that I do.
The time that we give to the Institute in many ways should be defined as professional contribution and regarded as professional development i.e. being part of a collegiate network.
We call upon many people within the industry for their expert advice and senior counsel. These experts have been reliant upon a community of peers who belong to an industry that is framed and supported by the Institute. There is also a large sector of the membership who are growing within the industry and utilise the Institute as a support network, an organisation which they are able to learn from their peers and ultimately as a collective improve the way in which they practice within the industry. The awards program also provides great opportunity for members to be directly engaged with becoming a jury member. Amongst other benefits, participation offers exposure to the most current projects within the state and establishing friendships within the jury teams.
This professional contribution therefore provides a two-way street.
What do I get for my membership/money?
This is tricky as what you get for your money as an individual may appear insignificant in material terms. However in order to feel a sense of belonging and to support the industry body that represents you might make more sense. This is a collective investment.
I first joined the Institute based on the fact that you can't criticise something unless you are part of it.
Like anything, being part of an organisation or an endeavour to further educate yourself, shouldn't mean expecting things to be done for you. What you give is what you get in return and vice versa.
Supporting the key body that supports our industry is fundamental in allowing for an inclusive and collegiate environment to be fostered.
If you feel that something is not right then we would encourage you to get involved to assist with making change. This is the only way evolution occurs and we thank those to date who have dedicated their time to shaping our industry.
LARGE PRACTICE FORUM
Small and Medium Practice Forums have been flourishing over the years providing a supportive network where sharing in order to generate a collective united front is empowering individuals, practices and the industry. This is what the Institute supports.
The stakes are clearly higher in large practice and therefore the inclination to 'share' is a little more problematic.
Novation however is a collective issue being faced by the industry at large with between 90-98% of the projects being procured in large practice through this method.
It is acknowledged that there are advantages with novation but there are growing concerns that the industry and procurement method are being eroded through general lack of understanding and blind sightedness. This is driven by perceived speed and cost savings associated with the process. This ultimately is not going to produce the best outcomes for all parties involved. It is a short term solution to what will become a long term problem.
The forum have agreed to a collective push to established an Institute policy document that addresses these issues in order to find ways to collectively better manage the process to achieve better built outcomes.
There is education that needs to occur across many sectors of the industry including the finance and legal industry. Cultural and contractual changes need to occur. With focused, collective knowledge this will assist with making much needed change.
BADS REVIEW
This month we met with the Department of Environment, Land, Water and Planning (DELWP) to present them with a review paper – one year on Better Apartment Design Standards.
It is acknowledged that the Institute welcomes the standards within a saturated sector of the industry in much need of reform. However it is also acknowledged that with any new standards unintended consequences will occur. A number of issues have arisen resulting in a series of recommendations that we are keen to work through with the government.
Thank you to Chapter Councillor's Tim Leslie and Karen Alcock for their time and contribution in establishing this response. Thank you also to the contributing practices who provided input for the review document.
2018 ARCHITECTURE AWARDS
After a successful Presentation to the Juries weekend, site visits will be taking place this month.
Thank you to Jason Stanton, Ruth White and all of the staff at the Victorian Chapter for all of their efforts to date.
On behalf of the Institute and the Awards Committee thank you to the jury members for their dedication to the cause. As we had a 20% increase this year in submissions from 2017 we appreciate that this then translates to a greater work load for the jurors. We are all looking forward to hearing the results of their deliberations at the end of June.
JILL GARNER
I would like to congratulate Jill Garner who was elevated this month to Life Fellow of the Australian Institute of Architects in honour of her outstanding contribution to the advancement of the profession through her professional and considered approach to Design as Victorian Government Architect. Also, as the Chair of Victorian Design Review Panel, Jill has served the profession and community by her promotion of quality design within government, who are the largest procurer of buildings and infrastructure in Victoria.
PIA/AILA
The Institute met with PIA and AILA this month to establish a monthly catch up and cross pollination between organisations.
Strength in numbers. A collective voice.
Have a great month.
Amy Muir
Victorian Chapter President