Hal Guida in conversation with ACT Chapter President Philip Leeson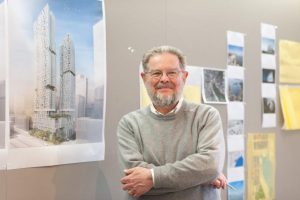 Photographer: Dan Spellman courtesy of Fairfax Media 2014
What drew you to architecture? Was it a love of drawing or the intellectual challenge of creating interesting spaces, or something else?
I entered college (university) without a specific area of study in mind – basically undertaking general studies. During that year a friend said that I should study architecture because "you always like modern houses" (pitched roof, exposed timber frames, big windows). I followed his suggestion and the following year I enrolled in first year design. I had never had an art or drawing class or any particular knowledge of architecture but was captivated by design as an intellectual and sensory creative-making activity. And each year it got more interesting.
You came to Australia with Mitchell Giurgola and Thorp to work on Australia's new Parliament House. You worked closely with Aldo Giurgola for many years. Where and when did you first meet him?
When I was in third year architecture (1962-3) 'Progressive Architecture' published a major article on the Boston City Hall competition, and the non-winning Mitchell/Giurgola Associates entry was highly regarded. I was fascinated by the scheme and Aldo's beautiful drawings and kept copies of the sketches on my desk during my student years. When completing graduate school at UCLA I wrote to Mitchell/Giurgola and through a series of back-and-forths I was offered a position. After graduation I sold my car, flew to Philadelphia, starting on 1 July 1968, and met Aldo about two weeks later when he came to the office from New York – working together over the drawing board discussing the detailing of the insitu cylindrical concrete stair for the Eighth and Market Subway station. And by the way, there is a pair of cylindrical variants to that stair at the northern point of the forecourt at Parliament, access from the public car park below.
It's been 30 years since new Parliament House opened, what impact do you think its design has had on Australians?
That's hard for me to know, judge, or speculate on, and there are so many ways to measure impacts. Nevertheless a great many people have told me that it is such a great, delightful place to work, and I have heard comments on an appreciation of the level of fine workmanship throughout the building.
Do you have a favourite area within Parliament House? If so, can you describe why it's still a favourite.
The forecourt. It engages the city and like plaza spaces everywhere it is ever changing.
As one of the moral rights holders of Parliament House, on behalf of the original architect Aldo Giurgola, what does this mean on a day-to-day basis? Is this a big responsibility?
Like all moral rights holders, this has limited responsibilities: the right to be formally informed if significant change to the building is being proposed; the right to access the building to photograph and record prior to changes taking place; and the right to engage in good faith consultation with the owner's representatives about proposed changes. Fortunately the Department of Parliamentary Services executes that later point in a positive manner allowing the comment that Pamille Berg (my joint moral rights holder) and I to be taken into account as they go forward in their considerations. In practice it takes a day or so every quarter to review upcoming projects; and occasional reviews.
You provided advice on the installation of the new security fences around Parliament House. How does this impact on the original design?
You'll know, I'm sure, that when we (Mitchell/Giurgola & Thorp Architects) won the competition the original design intent was to complete the geometry of the Triangle with the built structures nestled into the hill, avoiding imposing a building onto the hill which terminates the Land Axis. For many years after the opening the hill was completely accessible to visitors (you know, we used to go up to watch the fireworks sometime). But what many, perhaps, don't know or remember, is that with increasing security threats a dozen or so years ago, a series of fences were designed with Aldo's participation which restrained people from reaching the top of the hill (you'll remember, that was when the forecourt extension and roadway changes also took place).
So, now, again, with increased threats, the newly required fences on the grass ramps are a more recent iteration of what was done then in 2006, that is, a more secure barrier maintaining the restriction to pedestrian access "over-the-hill". The landscaped "hill" is still visible, significant areas of the green slopes are still available to the public, and, of course, everyone still has access to the terrace at the top of the hill through the building (as always). We worked hard to minimize the visual impact.
On the east and west there have always been fences that restrained access to the House and Senate garden courtyards; and soon plantings will be in place to reduce the visibility of the new fences that have extended that limitation. The executive fence and gate houses, which were completed several years ago, were part of the original design but deferred in about 1986.
I'm sure you'll appreciate that we'd all much prefer that these things were not required, but unfortunately this seems to be the world we're in.
With the completion of Parliament House, like Aldo Giurgola and others from the team, you stayed in Canberra. Have you lived in Australia longer than in the US?
I was 39 when I arrived; I have been in Canberra for 37 years.
What have been some of the major changes that you have witnessed in Canberra? And, what are the challenges facing the city's future?
The most substantial change to my perception has been in the provision of a wide range of ways to live. When we arrived in 1981, we lived (by choice and preference) in one of the very earliest and few apartments in the city – there were virtually no other choices other than single family house. Now there are small and large apartments of many types and locations, joined houses, cluster houses, townhouses, and all bring supporting shops, cafes, and social places.
You're married to an architect, one of your sons is an architect and the other is a writer. With four creative people, what were your dinner table conversations like?
Like many families I imagine – mostly family talk: school, events, friends (and sometimes international politics). But then we would move to another room and get to books, or music, Carol to the loom, or writing – we have always engaged in all kinds of doing, minimal TV.
Some years ago you made a "pilgrimage" to Palladio's villas in Italy. Is that too strong a word to describe the journey and has his work influenced your approach to architecture?
Perhaps too strong, but nevertheless. I had been to Venice and Vicenza several times to see Palladio (and others) and finally was able to have time to make a visit to some of the villas; and have done again since. Back in college we had two years (four semesters) of Monday-Wednesday-Friday lectures on architectural history and theory and I was struck by Palladio in 1963. But also Michelangelo, Alberti, and others of the Renaissance period – maybe part of my attraction to the work of Mitchell/Giurgola (Aldo taught a class on the Renaissance). Subsequent semesters we got to Schinkel, Soane, Richardson, Loos, Le Corbusier, Aalto…..
My first holiday after three years straight at M/G was a month in Rome, and the first day right to the Campidoglio: Michelangelo.
Back to the villas, they always seemed to me such a wonderful and inventive integration of landscape and architecture, the vernacular and the urbane, practical purpose and elegant living, food production and consumption, more or less consistent elements, but always different designs.
You have provided urban design and master planning consultancy services to clients in Singapore, Malaysia, South Korea, and China, what design solutions are there for people living in mega cities?
In our work we often look to the natural systems as fundamental generating planning structures for the design of large sites. We have worked with environmental scientists, ecologists, and landscape architects, for instance, at the outset of projects to try to get the initiating ideas right for developing design solutions that are sensitive to many aspects of a place, and that are good to be in.
Because they are in different parts of Asia people often don't know that at GMB we have completed ten quite different high density, often mixed-use, residential projects in various cities in Asia, maybe 8000 – 9000 units (and something like 50 high-rise towers), and the majority of them have been based upon an open space and landscape master plan that we conceive through collaboration with landscape architects. The green centres of these projects allow for the density of development that is necessary in the region and yet are highly liveable.
What advice would you give an architecture student commencing their career?
Find a way to work where you want; with people who inspire or challenge you; or go to a place that will do the same, try not to settle for anything less.
What do you see as the major challenge/s facing the architecture profession?
Systems, contract types, and processes that separate the architect from the clients – users – the people who have the responsibility, interest, aspirations, and vision for initiating a project. So much today seems to be administered around risk and everyone risk shedding with a loss of focus on the human use that will probably be in place for generations.
Do you have time or a hobby or passion aside from architecture?
Not really; jazz music and reading I suppose (although much reading is on architecture)
Right now I'm engaged in two books on Michelangelo, one on Palladio's villas, two of Peter Eisenman (and looking forward to his upcoming book on Alberti), books on artists Jasper Johns and Ed Ruscha, a small volume of interviews with Cartier Bresson, the latest Peter Carey, and The Burglars Guide to the City.
16 October 2018