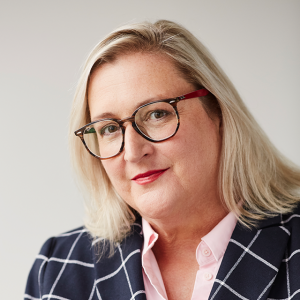 Image: John O'Rourke
Julia Cambage understands how someone's life can improve because of the built environment and the opportunities it can bring.
The new chief executive officer of the Australian Institute of Architects comes to the role having run a social enterprise that created innovative housing and property solutions while giving disadvantaged young people a chance.
'I'm very interested in the built environment,' she says.
'The work I have done as CEO of TRY Australia around disadvantage has made it even more important to me – the built environment is so significant in creating great spaces for people to actually live, work and play.'
Ms Cambage joins the Institute at a time of transition and growth.
As the Institute's vision to strengthen the architectural profession and to promote the public interest through exceptional design with an ethical approach continues to roll out, Ms Cambage says she will bring the strategic skills, entrepreneurial energy and collaborative approach to ensure architects become a leading voice for progress across Australia.
'It's about uniting our voice and ensuring we're able as an Institute to communicate our message very articulately and clearly to our target market,' she says.
'It will ultimately unite the architectural sector and allied professions across the built environment so we're not standing alone. So we're united as a group with others who have vested interests in making sure we're doing good things for our communities.
'The ultimate goal is to improve the lives of many through the built environment, through establishing and enabling an environment that is high quality. The only way you can do that is through collaboration and engagement – this is for everyone, and not just for some.'
Ms Cambage's work history spans the not for profit sector, procurement and hospitality, but Ms Cambage says all the roles are linked through a single theme – a strategic approach.
Until recently she led the youth-focused not-for-profit TRY Australia, a multifaceted social enterprise with 450 staff and a turnover of $35m annually.
In the six years she ran the charity, one of her key initiatives was TRY Build, a for-purpose business where young people at risk of disengagement gained construction and business skills by repurposing shipping containers for housing and industry.
'TRY Uncontained and TRY Build were a part of my vision for the organisation, projects I developed and drove to where they are now,' she says.
'Across all my roles I have been able to draw the threads together and create businesses that are sustainable. I have been very strategic in the way I went about it, understanding complex relationships, drawing in partners and building a collegiate team across cultural barriers and divides in some instances.'
From 2004 to 2012 she was the chief of Australia's largest procurement company, Procurement Australia, where she oversaw more than $1 billion in goods and services; before that she ran Family Business Australia.
Last year she undertook a course in Performance Measurement for Effective Management for Nonprofit Organisations at Harvard Business School – 'an awesome experience' – following on from postgraduate studies in entrepreneurship at Swinburne University of Technology.
Ms Cambage says she is looking forward to leading in this national role and building an Institute that is ready and willing to be prominent in nation-leading issues.
'The role of architects in the built environment is going to become more important as we look at the situation the world finds itself in – around a whole range of different man-made impacts that are going to play out in the future,' she says.
'Architects can play a pivotal role in finding solutions to some of those issues.'
Melbourne-based, Ms Cambage enjoys 'all the normal things': walking her pet dog around her Mount Eliza community on the Mornington Peninsula, reading and getting out on the water in her partner Rod's sailboat.
This takes a back seat, however, to watching her superstar daughter, basketball centre Liz Cambage, play in the US WNBL for the Dallas Wings, or as an Australian representative in the Opals.
'I watch a lot of basketball – a lot of basketball,' she says, laughing. 'I've been to a lot of basketball all over the world. I'm lucky enough to have great mates doing this as well.'
As she steps into the Institute's chief executive officer role, Ms Cambage says she is focused, calm and clear with colleagues.
'I have very much a nothing-up-my-sleeve approach to business with people,' she says. 'I'm very calm and collected.'