News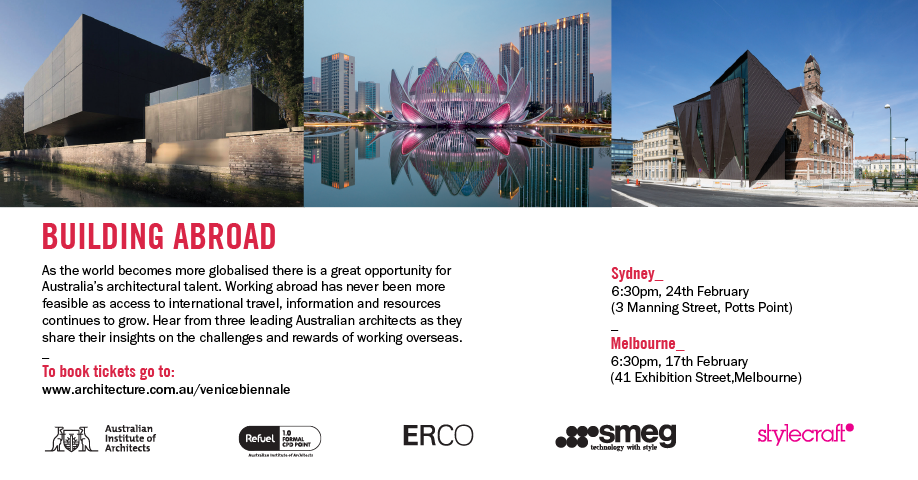 Book now to join our Building Abroad Seminar. Speakers include:
John Denton_ Denton Corker Marshall
As a founding architect of the DCM practice, established in Melbourne 1972, John Denton's work now spans the globe, including their most recent project, Australia's new pavilion in Venice.
Gerard Reinmuth (Sydney event) and Scott Balmouth (Melbourne event)_ Terroir
Gerard Reinmuth and Scott Balmouth are directors of Terroir, an Australian practice with an international office in Copenhagen. Through this collaborative arrangement, the team have worked on a range of exciting overseas projects.
Dylan Brady_ Decibel Architecture
Dylan Brady was the founding director of studio505 in 1997, and has recently launched his new practice Decibel Architecture (dB(A)). Building on the momentum of recently completed buildings in Singapore, Malaysia and China, dB(A) is working on innovative, sustainable and transformative projects in Melbourne, Kakadu and throughout South East Asia.
A final panel discussion will include an expert from Planned Cover with advice on what things you will need to place to safely practice internationally. Chat with the speakers and colleagues during post seminar drinks and nibbles.
To book for the Melbourne event, Wednesday 17th February, click here
To book for the Sydney event, Wednesday 24th February, click here
For any queries, contact venice.biennale@architecture.com.au
---

Austral Bricks are long term supporters of Australia's exhibition at the Venice Architecture Biennale. Each year, they offer the opportunity to be a member of the Austral Bricks Clubs, with exclusive benefits at the Venice Biennale including access to a Vernissage pass. For more details and to enter, click here
---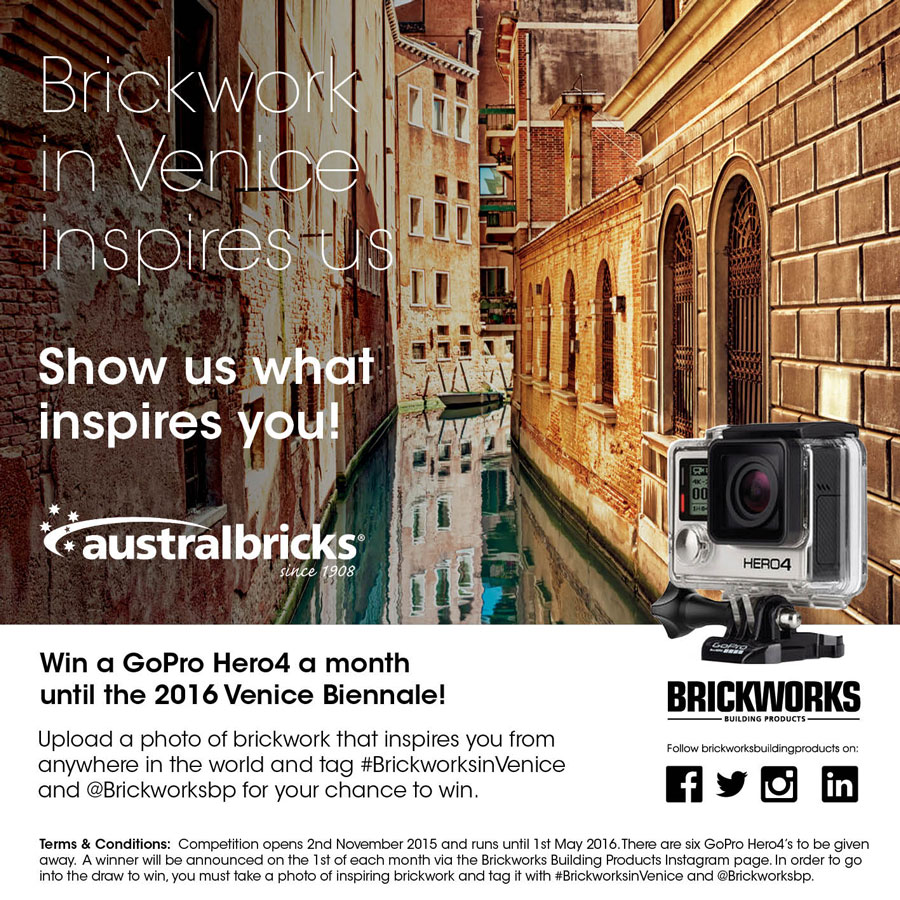 For more information – click here: http://designplace.com.au/win-gopro-hero4/
---
Volunteering In Venice
Applications for volunteer positions for the Australian exhibition in Venice have now closed. Successful applicants will be notified by the end of February, early March 2016.
Any queries should be directed to venice.biennale@architecture.com.au
Many thanks to everyone who applied.
---
Follow us:
Facebook: www.facebook.com/venicebiennaleaustralia
Twitter: https://twitter.com/VeniceArchAUS
Instagram: https://instagram.com/venicearchaus/
#ThePoolVenice
---