There are some projects that require you to interrogate further your own values in order to divise your opinion. These projects are polarising, difficult, and are the ones that make an impression. The Walden 7 housing development by Ricardo Bofill was one of these projects, and with its monumental red-tiled facade, and sci-fi references, was our first visit for the day.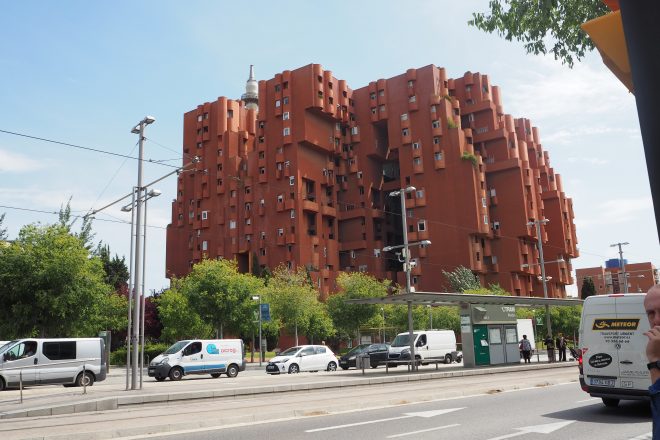 A speculative, low-cost housing development, Walden 7 was a utopian vision for a fringe community outside Barcelona. The 14 levels of the building contain 446 individual and unique apartments bound together by a labyrinthine plan – including 6 kilometres of external corridors.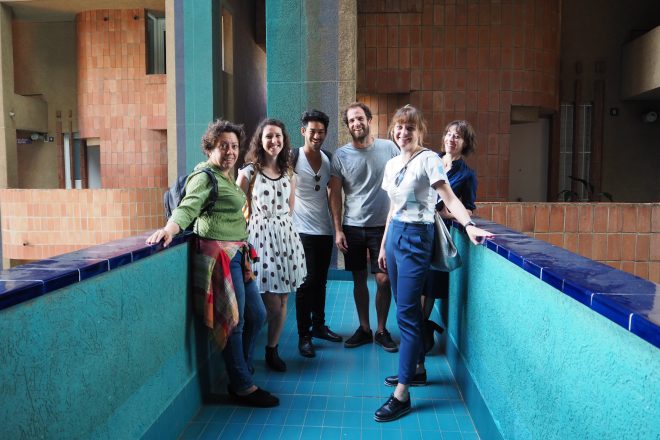 To greet us is the enigmatic Alessandra, a resident at Walden 7 for over 25 years. She whisks us from the bright Barcelona light into the heart of the building to begin our journey to enlightenment. We make our accent, like pilgrims, winding up to the terrace on the roof. This journey is incredibly animated, as we are captivated at each turn. Breaks in the terracotta walls give views out over the surrounding landscape and bridges over the voids remind us of where we are. Moving from dark and narrow stairs, across projecting bridges and balconies, every step opens up new connections and vistas. We take lots of photos, and try to imagine the people living here.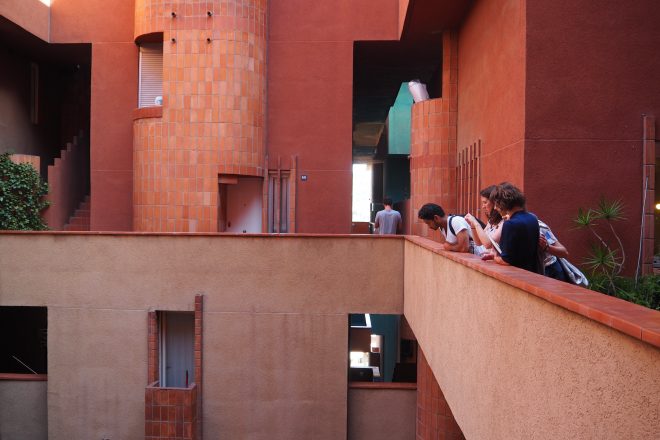 Our next stop is just 100 metres down the road to a decommissioned cement factory where we find the office of Riccardo Bofill Architects. Walking through this industrial ruin overgrown with plants, gives the impression of wandering through a film set. It is a quiet and monastic space.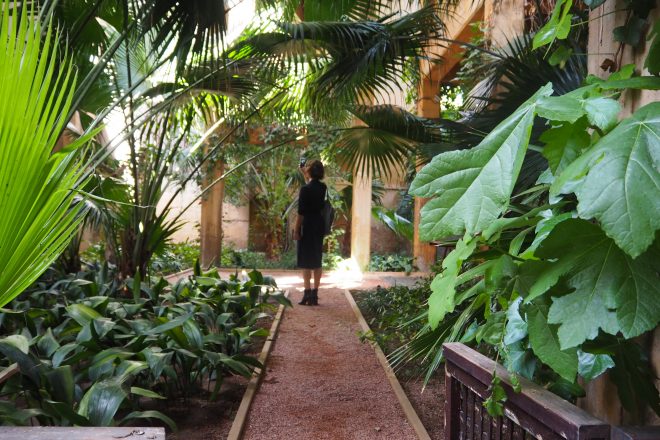 Back in the taxi we head to Santa Caterina Market, a building that has teased us with glimpses of its colourful roof as we have been wandering the city over the last few days. We met with Arturo and Gabriella from EMBT who talk us through the development of the project.
The roof is incredibly expressive and clad with bright colours. With an intent to reflect what is held within, a photo of fresh produce is abstracted to a pixilated pattern in 72 colours of local ceramic tiles that have been laid over a complex timber and steel roof frame. There is a bacalao washing station at the back of the market that I particularly take delight in; a modest celebration of a very specific and local tradition.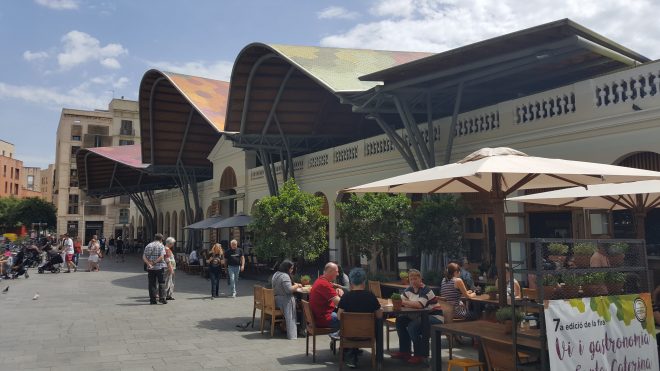 From here we follow them to the studio: a historical four-level building in the Gothic quarter full of models, drawings and character. Model making is integral to the practice, and myriad handmade physical models are used as the key design tool for every project before it enters the digital world. Being a believer of the physical model, I found this inspiring.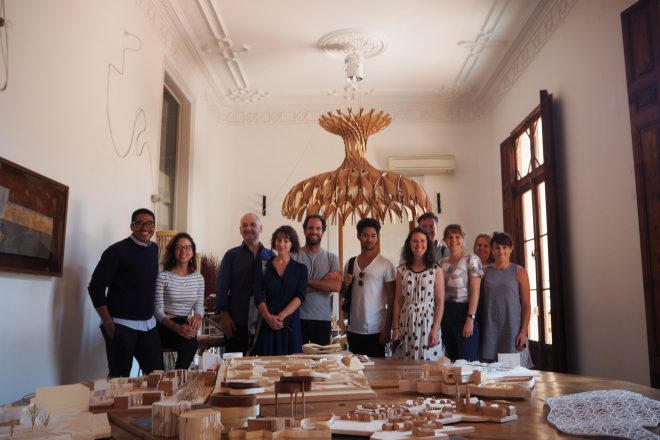 Pushing every minute to its maximum, we hurry to our next visit. Darting through the narrow streets we emerge in a square surrounded by the grey debris of construction. In the distance we see a striking woman with flowing watermelon pants, stacked sandals and silk. It is Carme Pinos.  With barely a greeting, she ushers us into the construction site for Gardunya Square. Radiant and engaging, but with no nonsense, she talks us through the project. She pulls out models twice her size, and takes plans from the walls to talk us through her approach.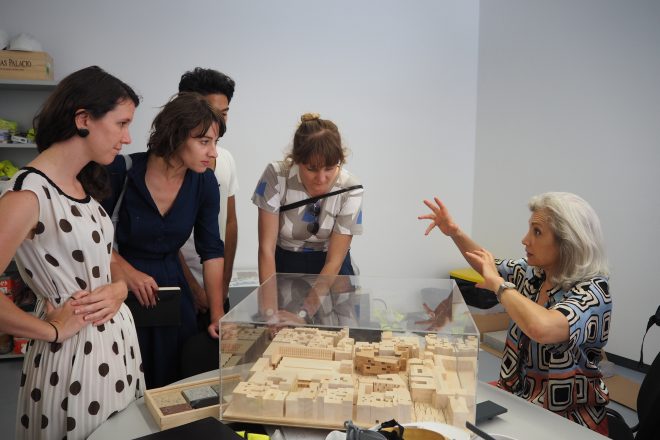 We tour the building in construction and are impressed by her intimate knowledge of every detail, though it was worked on by a team of many.  She has a confident honesty and expressed delight in serendipitous outcomes that were not intended, as well as a frankness to less favoured moments. There is a rigour to the design process to ensure the outcome was not a singular expression of the architect, evident by little discussion about the view of the buildings, and more about how they engaged and enhanced with the fabric of the city.
The visits done for the day we head to a little bar near the office of EMBT. We revisit our discussion on Waldon 7, and try to frame the uncertainties in our minds through collective inquiry.  Uplifting or overbearing?  "Psychedelic purgatory" or sustenance for the eye and mind? There are wonderful moments, but this at the price of an over prescriptive system? There are no answers tonight but there is an energy in these discussion and a keen curiosity to keep the conversation going.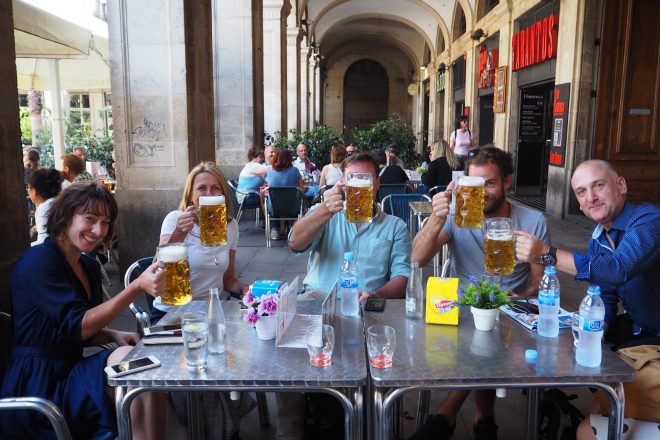 – Claire Scorpo
Follow #2017DuluxStudyTour