Last night, arriving in Milan after our flight from Berlin, the group headed straight to the cocktail lounge at our hotel's rooftop. Being delivered into this centre of fashion and design I was impressed at how quickly the city's reputation of beautifully styled people became apparent. This could be due to the privilege that we have been afforded by our incredibly generous hosts, at Dulux and the Australian Institute of Architects, to be in a more glamorous part of the city than I would otherwise find myself or it could be that the Milanese people are simply the fashionistas that we expect them to be. Of course it is probably a little bit of both and I think our time in the lounge gave our group a sense of how ideas of style, fashion, and taste may be working to shape the architecture in this city.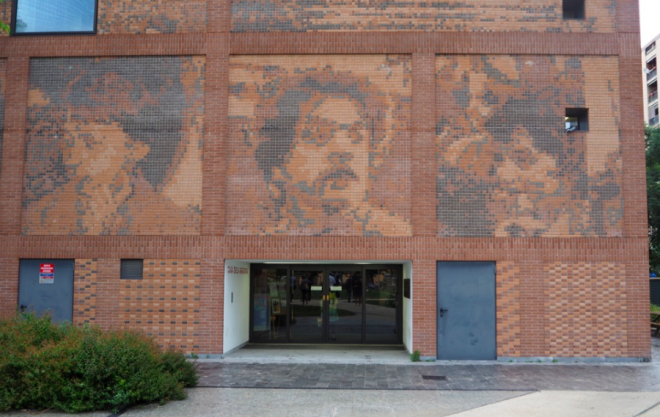 Earlier in the day, we visited the Casa della Memoria (House of Memory), completed by Italian architecture collective Baukuh in 2015. A kind of library or archive, where the community's memories may be deposited and catalogued for posterity, this peculiar cultural centre allows memories to be readily shared and expressed amongst the community – all made available by a bright and dramatic yellow spiral stair. Considering how Milan has chosen to deal with its memories of recent history, I couldn't help but reflect back on the Neues Museum by David Chipperfield that we had visited in Berlin the day prior. All surfaces, mannered proportions and material compositions at the Neues Museum subtly expressed the history and significant recent events of the city. Retaining the scars of conflict and destruction on the surfaces of the building, along with this time of renewal, the Berlin building was a restrained exercise in the expression of how the material of a building could hold and express attitudes to memories in its fabric.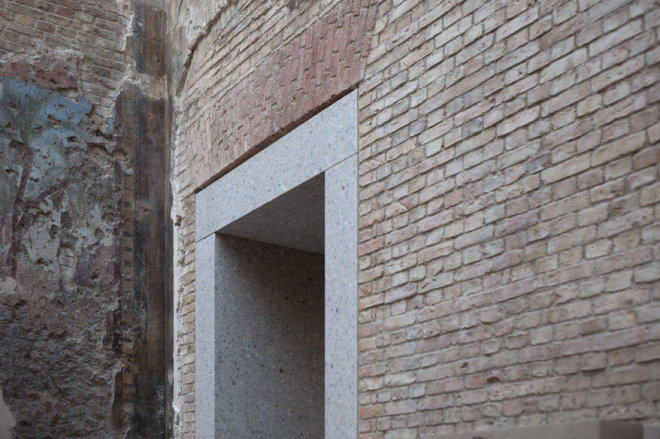 In discussing this with Jason, he suggested that how these two buildings deal with memory, feeling, and its expression could be symptomatic of the cultures of the cities that they are in. In a very general sense, made familiar by popular culture, with German people being characterised as restrained, keeping their emotions and feelings to themselves to be resolved privately. In the same vein, Italian people are characterised as being expressive, sharing with those around them and what their concerns and feelings are in the moment.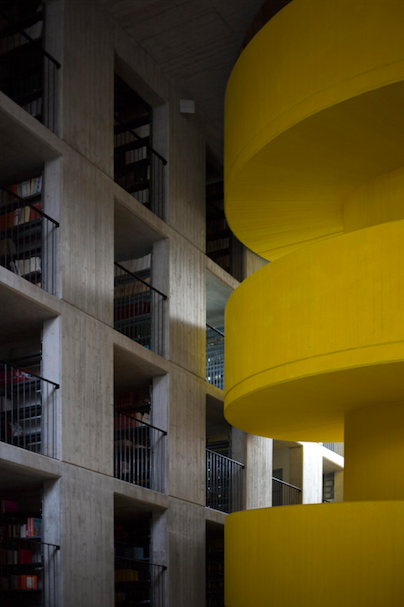 This morning our practice visit took us to the office of the precocious Stefano Belingardi of BE.ST. Not dissimilar to how the practice name appears to be constructed, Belingardi's designs appear to be formulations of parts that are familiar, simply brought together to form a whole that is both traditional and inventive while also serving to reinforce his reputation. In his designs this style of working is developed through predominantly visual compositions that use conventional materials such as glass and the native stone of Milan, to moulded plastics and folded timbers that readily brands and links his work to the fashion and design community of the city. As a marked shift from what we saw in London and Berlin, relating to practice culture and community engagement, this was an architectural mode of branding. And if you want to be part of the Milano scene, you can simply buy some.
A short train ride later, on an enriched whim facilitated by our wonderful and gregarious tour organiser Mai Huynh from the AIA, we made a mini pilgrimage to Verona to take in Carlo Scarpa's Castelvecchio. Following a lunch of pizzas, salads, and grape juice, I have to admit feeling a little queasy at first. All rich, expressive, and carefully orchestrated in all manner of details, moving through the ensemble of spaces you could be forgiven for having the sense that Scarpa had licked every surface and junction of the building. It was that intense.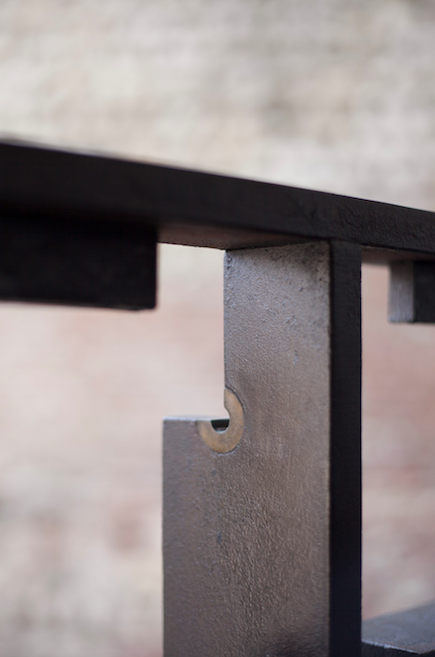 The care that was afforded to the conservation and reworking of the building was applied in equal measure to the presentation and curation of the artworks in the various spaces. Rather than feeling overtly contrived, or that the architecture/architect was in competition with the artworks, the care that was afforded to the presentation of these sixteenth- and seventeenth-century painting and sculptures made for an enlivened and heightened sense of awareness of the viewing experience.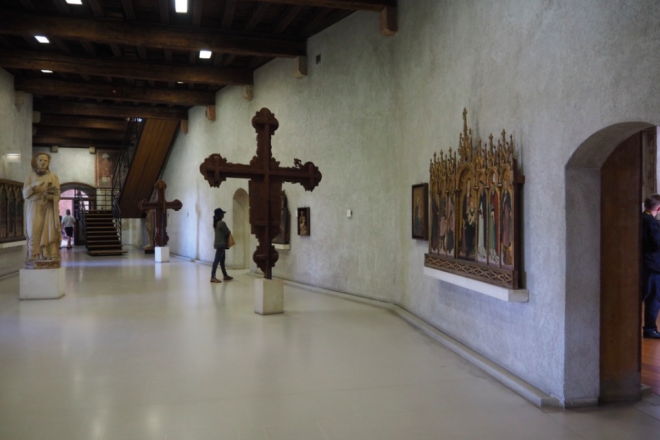 Later in the afternoon, each of us with an Aperol spritz in hand, we began to reflect on what we had seen in the past few days focussing around the question: What is the appropriate amount of design? Restrained, mannered, and sophisticated in its simplicity, the Chipperfield refurbishment of the Neues Museum seemed to appropriately reflect the sombre and meditative attitude that the German people have to their rich and alive history, warts and all. By comparison the work of Scarpa is all colour, texture, the making and breaking of patterns, indulgent in expression, perpetuated the intense cultural history of painting, architecture and sculpture that has defined much of contemporary artistic expression. We agreed that of course neither approach is necessarily more favourable than the other, but that each was appropriate for the context in which it was responding to and formed from. And dare I say it, both were equally tasteful.