2018 NSW Architecture Awards – Jurors
Thank you to all our 2018 NSW Architecture Award jurors who assessed more than 200 entries from across the state in the 2018 program. Jurors for the 2018 NSW Architecture Awards were selected exclusively from the call for expressions of interest, the NSW Awards Committee has chosen 19 members from across the state to form six independent category juries.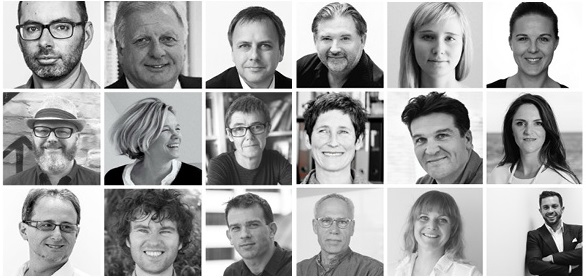 Public Architecture / Educational Architecture
• Marissa Looby, Government Architect NSW (Jury Chair)


• Ross Bonthorne AM, Ross Bonthorne Architect




• Andrew Cortese, Grimshaw

Commercial Architecture / Interior Architecture
• Annabel Lahz, lahznimmo Architects (Jury Chair)


• Simon Lincoln, Make




• David Hirst, Mirvac Design

Residential Architecture – Houses (Alterations and Additions) / Houses (New)
• Heidi Pronk, Mackenzie Pronk Architects (Jury Chair)


• Michael Holt, Government Architect NSW




• Michael Tawa, Michael Tawa Architect




• Tina Engelen, CO-AP

Residential Architecture – Multiple Housing / Urban Design
• Graham Jahn AM, City of Sydney (Jury Chair)


• Alicia Pozniak, Government Architect NSW




• Matthew Allen, Bates Smart Architects




• Michelle Tabet, Left Bank Co

Heritage Architecture / Small Project Architecture
• Imogene Tudor, Sam Crawford Architects (Jury Chair)


• Duncan Sanby, Utz Sanby Architects




• Matthew Devine, Matt Devine & Co

Sustainability Expert
• Andrew Bagnall, A G Coombs
2018 Newcastle Architecture Awards – Jurors

Newcastle
• Sam Crawford, Sam Crawford Architects (Jury Chair)
• Georgina Wilson, Georgina Wilson Architect
• Jasmine Richardson, Ekah Studio
• Ramsey Awad, University of Newcastle
---
The Institute's Architecture Awards recognise excellence and innovation in design and are conferred via a rigorous system of peer review.
In NSW, each Awards category is presided over by a jury of at least three people. Juries are comprised of Institute members appointed and convened by the Institute's NSW Chapter Awards Committee. In addition to submitting data and images online, each project entered for consideration must be presented in person to a Jury panel. In the period immediately after Presentation to Juries, Juries will carry out site visits before compiling their shortlists.
The EOI to be a Jury member for the 2018 NSW Architecture Awards was open from Monday 23 October to Friday 24 November 2017.
---

Expressions of Interest – 2018 NSW & Newcastle Architecture Awards are currently been reviewed
The Institute's NSW Chapter has called for expressions of interest (EOI) from members interested in becoming a juror for both the Newcastle and NSW Architecture Award programs in 2018.
The closing date for 2018 jury applications was Friday 24 November 2017, after which submissions will be reviewed by the relevant NSW committees for selection.
EOI submissions are made through a short online form where you will be prompted to provide details of your areas of interest and expertise.
Before submitting an EOI, please see below for some further information about the 2018 program and download the Jury Handbook. If you require further information please contact the NSW Awards & Prizes Officer.
NSW Award Jury Service – FAQ
How are award juries selected, and how do I apply?
Members of all NSW award juries, including jury chairs, are selected annually by the NSW Awards Committee. You can apply for a position on Jury by submitting an Expression of Interest (EOI).
This process opens in October each year.
In Newcastle one jury considers entries across all categories. Jury members are selected by the Newcastle Division Committee following the annual EOI process.
A few things to note:
In addition to new EOI's each year, those who have raised interest in the last 5 years are also considered. If you have submitted previously but would prefer not to be considered, please contact the NSW Awards & Prizes Officer who can remove you from this list. If you have submitted an EOI in the last 5 years you are not required to submit again, but are welcome to do so if you wish to update your details and/or to reaffirm your interest.
EOI's are reviewed by the jury in November or December each year. When all expressions of interest have been viewed and past nominations considered, the NSW awards committee will invite those selected to join a p

articular jury. Due consideration is given to balancing gender and expertise when selecting juries.
Architects on Chapter and Regional Juries are required to be Institute members (see Awards, Prizes and Honours Policy, page 7), however other experts can also be considered at the discretion of Chapter Council.
New jurors are sought each year. For experience and continuity a maximum of two jurors from the last 5 years may be invited to repeat jury service, but must serve on a different category jury and repeat no more than twice. Once they have served, jurors cannot be considered for the same category jury again for a period of 5 years.This mode of selection aims to ensure a broad range of expertise and diversity of experience across the award categories, and offers all members the opportunity to engage in the Awards assessment process annually. [This rule is relevant to the NSW Awards only]
Why should I be a juror?
The awards process is a major opportunity for public and peer recognition of architects' work, and also provides the Institute with a valuable mechanism to promote architects and architecture in the Australian and international community. Appointment as an award juror is an important role. It offers the chance to contribute to your profession, to recognise and award design excellence in the work of your peers, whilst presenting excellent opportunities for personal and professional development.

Below are some quotes from past NSW jurors on their experience:
Participating in the 2015 NSW Architecture Awards jury was an incredibly rewarding and enriching experience. Witnessing first hand the thinking, passion and tenacity that it takes to deliver an imaginative or innovative architectural project gives tremendous insight into the profession as a whole, is a great privilege. With privilege comes responsibility, and the need to negotiate a shared vision with a jury of peers is a significant element of the process. It was a great journey, and one that I recommend to those considering whether to apply or not. – Matthew Gribben, 2015 NSW Awards juror
The real surprise of being on a jury is that it is an incredible opportunity to completely live and breathe other peoples take on architecture. For a whole week you are a voyeur removed from the process – able to appreciate and be inspired by the very makings of a project. – Emili Fox, 2014 NSW Awards juror
For full information on the jury process, please download the Jury Handbook.
What are the duties and time commitments?
The role of a NSW jury member as a whole runs from approximately March through to the beginning of July. The majority of commitment is during March and April when applicants present their entries, and projects are visited. Newcastle juror duties generally run from January through to March.
Before accepting a place on a jury you should properly consider the time commitments of the process and key dates which are set in advance of jury selection: 2018 JURY DATES

Can I still enter the awards if I'm a juror?
Being an award juror does not preclude you or your practice from entering the awards that year, however you cannot enter into categories in which you yourself will be judging. Eg. if you were judging the category group Public Architecture/Educational Architecture you or your practice would be free to enter all other categories except these. Jurors are also responsible for declaring any conflicts of interest should these arise throughout the judging process.