A detailed schedule is available here (a new schedule has been uploaded on 25.03.20).
Delays on the schedule will be communicated in real time on this webpage.
Presentation to jury will take place on: 23 – 28 March 2020
Judging will review 11 major categories, each with an 8 minute presentation and followed by a short Q&A.
Presentations will take place remotely, entrants are invited to read the following to ensure a smooth Presentation to Jury in these extraordinary circumstances.
Please familiarise yourself with who is on your jury: 2020 jurors are listed here.
Once your time slot is coming up, please follow these instructions:
Dial in details
Dial in: 1800 153 721 or call: +61 2 7200 9600
And enter the Participant PIN: 3513 6471 followed by #
Please mute your line when not speaking
To mute your line *1 To unmute your line *1
Do not go on hold or take another call as this will result in on hold music for everyone on the call
Remember to hang up when finished the call
Presentations
To be fair everyone has 8 minutes with 2 minutes Questions
We will give you a time check at Question time
if you go over time, you will be asked to stop.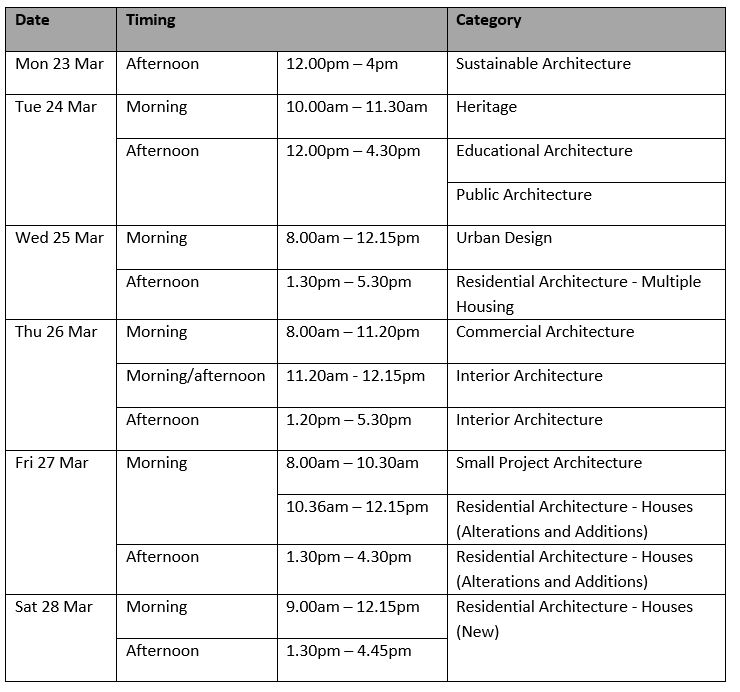 By entering into the NSW Architecture Awards, one of the entry points to the Institute's National Architecture Awards program, you give yourself, your practice and your staff the opportunity to be judged for the work you are proud of, the issues you stand for and to demonstrate your work among your peers. Participating in the awards can be an important step in strengthening your membership in the architectural community, and a celebrated milestone in your career, whether you are an emerging or established architect, a small firm or large practice.
Key Dates 2020
Online entries open: Monday 18 November 2019
Online entries close: Monday 24 February 2020 (submitted online by 11.59PM AEDT)
Deadline for submission of additional material: Monday 24 February 2020 (art work for the display board to be provided to Big Image )
PowerPoint Presentations: by mid March
Presentation to jury days: 23 – 28 March 2020
Shortlist announced: by mid April
Jury Visits: 27 April – 1 May 2020
NSW Awards Night: Friday 19 June 2020
The 2020 NSW Architecture Jury will be announced by mid December
Important Guidance Documents

Key changes to the 2020 program:
Separate juries for Residential Architecture Houses New and Alterations & Additions
Heritage has its own jury and the Heritage Committee has been involved in the selection of the EOIs
Sustainable Architecture also has its own jury and the Built Environment Committee has been involved in the selection of the EOIs
A Sustainable & Sustaining Architecture award checklist has been introduced in the online entry platform
Residential Alterations and Additions will be teamed with Small Projects, as this has been separated from Heritage
Terms & Conditions
Please note: the Awards Terms and Conditions of Entry have changed. Please read through the terms and conditions before submitting an entry. Download the Terms & Conditions of Entry.
---
How to Enter
Before starting an entry, members are strongly advised to read through the 2020 National Architecture Awards Entry Handbook and Awards Policy, which includes all relevant requirements for both state and national awards.
It is important that you familiarise yourself with these documents before starting your submission. There have been a few changes this year, including:
Entrants must be a financial Institute Member (see the Membership page for information on joining the Institute. A+ Members receive 10% discount on entry fees).
The use of Bluescope Steel products is a criterion for the COLORBOND® Award for Steel Architecture.
Changes to the additional compulsory entry materials (A2 Boards with one single portrait image clearly indicating the entry number, entry name and category to be ordered via Big Image ).
Online Entry: Awards submissions are made via an online entry system, and supplemented with additional entry materials. Entries are required to include a selection of digital images, drawings and plans which are also submitted via the online system. Online entries should be completed, paid and submitted before the closing date.
Please note that your online entry should include:
a square format hero image (1080X1080 pixel, 72dpi) for social media purposes (Instagram).
Copyright and consent forms
Copyright and consent forms are now to be filled out and uploaded as part of your entry. Therefore, it is important that you have confirmed the project attribution at the beginning of the process and ensured all authors have given you their consent.
Additional compulsory entry materials: In addition to their online entry, entrants must produce a display board, please download the artwork here.
The art work for the display board should be provided to Big Image by the 24 of February 2020. This A2 exhibition board will be used for consideration by the jury. The A2 Boards must include one single portrait image only, either a high-resolution hero or detail photograph with no border to be ordered via Big Image (NB. the Institute has negotiated a competitive print rate for members which includes also delivery).
Please note: Each individual entry is expected to be accompanied by its own presentation board and digital presentation, even where the same project has been entered into multiple categories (e.g. 2 category entries = 2 exhibition boards and 2 digital Presentations). This allows us to feature your project in multiple categories in future exhibitions, and helps us in preparing the jury presentation days.
Award Categories and Prizes
| | |
| --- | --- |
| Award Category | Chapter Named Award |
| Category 1: Public Architecture | Sulman Medal for Public Architecture. |
| Category 2: Educational Architecture | William E Kemp Award for Educational Architecture |
| Category 3: Residential Architecture – Houses New | Wilkinson Award for Residential Architecture (New). |
| Category 4: Residential Architecture – Houses Alterations and Additions | Hugh and Eva Buhrich Award for Residential Architecture – Houses (Alterations and Additions) |
| Category 5: Residential Architecture – Multiple Housing | Aaron Bolot Award for Residential Architecture – Multiple Housing |
| Category 6: Commercial Architecture | Sir Arthur G. Stephenson Award for Commercial Architecture |
| Category 7: Heritage – Creative Adaptation and Conservation | Greenway Award for Heritage |
| Category 8: Interior Architecture | John Verge Award for Interior Architecture |
| Category 9: Urban Design | Lloyd Rees Award for Urban Design |
| Category 10: Small Project Architecture | Robert Woodward Award for Small Project Architecture |
| Category 11: Sustainable Architecture* | Milo Dunphy Award for Sustainable Architecture |
| Category 12: Enduring Architecture | Members are not able to enter this category directly (refer to paragraph 2.1.5 in the 2020 National Architecture Awards Entry Handbook) |
| Category A1: * | COLORBOND® Award for Steel Architecture |
*Awards are conferred after considering all relevant entries across all categories. These awards cannot be entered into directly.
Other Award Categories:
Category 13: International Architecture.
This award acknowledges the work of Institute members resident outside Australia and local members undertaking commissions overseas. All members wishing to submit entries for the International Architecture Award should refer to 7.3 INTERNATIONAL CHAPTER AWARDS in the Awards Entry Handbook for full details. All enquiries should be directed to international@architecture.com.au.
Category A1: COLORBOND® Award for Steel Architecture – Awards are conferred after considering all entries across all categories.
For detailed explanations of each entry category please refer to the 2020 National Architecture Awards Entry Handbook.
Core Criteria
To ensure an equitable basis upon which entries can be judged, jury decisions are guided by a uniform set of criteria called the 'Core Criteria'.
The Core Criteria are as follows:
Conceptual framework: underlying principles, values, core ideas and philosophy
Public & cultural benefits: amenity and concepts contributing to the public domain
Relationship of built form to context: concepts engaged with new and pre-existing conditions
Program resolution: functional performance assessed against the brief
Integration of allied disciplines: contribution of others, including engineers, landscape architects, artists and other specialists to achieve the outcome
Cost/value outcome: effectiveness of decisions related to financial issues
Sustainability: benefit to the environment through design
Response to client & user needs: additional benefits interpreted from the brief, serving the client or users and the community.
Read the Awards, Prizes and Honours Policy for more information.
Eligibility
To enter the National Architecture Awards, entrants must be a registered architect and Institute member. Entrants must be registered in the state or territory of entry, and be a principal of the practice who is an owner, or a formal licensee of the copyright in the work being entered. Where the entrant is a formal licensee (does not own the copyright), the entry must be accompanied by a written agreement from the copyright owner stating that the work may be entered for an award.
To be eligible, projects must have reached practical completion by 31 December in the year preceding the year of judging. Projects are to be entered in the Chapter or Region where they are located, not where the entrant or practice is located. Entrants who have carried out projects outside of Australia may enter those projects in the International category.
Entries may be judged at the National Awards level only once. Therefore, any project that has previously been awarded a Named Award or Architecture Award are not not eligible for any future awards program, except where the award was given for Sustainable Architecture. Projects awarded a Commendation are eligible for future award programs.
For full eligibility criteria please refer to the 2019 Awards Entry Handbook and the Awards Policy.
Entry Fees
Standard Entry fee: $700 ex. GST
A+ Membership discount (10%): $630 ex. GST
Payments are to be made via the online entry system.
NSW Selection Process
The jury reviews all entries in their category.
All entries are required to present their project in a public forum – Presentation to Juries. Entrants may be required to prepare also a separate presentation and present their project to the Sustainable Architecture Jury.
After presentations have occurred, the relevant jury selects the projects that they wish to visit. A shortlist is prepared.

Selected projects are visited for 20 minutes only.
projects may be visited more than once and by different juries.

The site visits are coordinated by the NSW Awards & Prizes Officer but arranged by the architect with their client.

The architect and/or client are required to be on site to give the jury a tour of the project.
If the project is located in regional NSW, a majority of jurors will attend the site visit.

Following further deliberation, the jury recommends projects for awards from the shortlist and prepares the relevant citations.
Winners are announced at the annual NSW Architecture Awards Night. The 2020 Awards night will be held on 19 June, more information to come.
---
General tips to get your online entry started:
Contact details: The first time you use the online entry system, it will prompt you to register as a User. Please note that the address entered here will receive the automated emails from the system to do with this entry and the online entry system (eg. notifications of entry submitted, payment pending, etc.). The contact for the project entry (whether an Institute Member or not) should register as the User, and also provide their details in the Contact Details section of the form. There will be another opportunity within the form to provide the Member's email address for approval of the submission. If you have registered before in previous awards programs, you will not need to re-register. Please use your previous log in details.
Email addresses: Please refrain from providing generic email addresses for your entry (for example: admin@ or enquiries@, etc.). Communications often go missing if these inboxes are not well-monitored, so it is preferred if you provide a direct email address.
Photography: If you haven't already, organise a photographer to take photos of your project straight away in order to avoid missing the submission deadline in your Chapter.
Project attribution: Confirm the name of your project and practice attribution with all contributing authors before you begin your submission.
Deadlines: We are not accepting any late submissions for the 2019 Awards program, so familiarise yourself with all Chapter submission deadlines early and get started on your submission.
Hero image: Choose your hero image, and upload this first to the entry system. *NB: Your hero image should be landscape orientation, and will be used in all promotional material for your project. Please include also a square format hero image (1080X1080 pixel, 72dpi) for social media purposes (Instagram).
Browser: Do not use Internet Explorer to complete your submission, as it is no longer supported by Microsoft. Other browsers we recommend include Google Chrome, Safari, and Firefox.
---
Contact
For all enquiries relating to the NSW Architecture Awards please contact the NSW Awards & Prizes Officer or call 02 9246 4006.