NSW Student Architecture Awards – General overview
The NSW Graduate & Student Awards program was established in 2010 coinciding with the introduction of the Bachelor of Architecture and Master of Architecture degrees. The aim of the program is to promote the skills of architecture students in NSW.
Submissions online are now open for those who have been nominated by their University. Entries have now closed for 2019.
Important Documents

Entries for the 2019 NSW Student Architecture Awards opened on 5 December 2018 and will close 31 January 2019.
Please note that only projects nominated by an accredited School of Architecture in NSW (UNSW, University of Sydney, University of Newcastle and UTS Sydney) can be entered with the aim to be judged for the:
NSW Graduate Medal (best graduate project);
NSW Undergraduate Medal (best undergraduate project).
All projects will also be judged for the:
NSW Architectural Communication Award;
NSW Architectural Technologies Award.
The Awards include University nominated prizes to students from each NSW School of Architecture.
Each university will nominate the most outstanding student in four areas for a prize that will be presented at the Awards Night.
The process is at the discretion of the respective university but is generally understood as relating to students with the highest weighted average mark in each category:
Graduate of the Year (Bachelor's program);

Graduate of the Year (Master's program);

History & Theory Prize to the student with the highest aggregate mark;

Construction & Practice Prize to the student with the highest aggregate mark.
Process
Winners will be announced on Friday 1 March 2019 at the NSW 2019 Student Architecture Awards Night and all projects will be featured in an exhibition at Tusculum as part of the annual
NSW Student Architecture Awards Exhibition.
More information on the exhibition will be available closer to the date.
Key dates
Online entries open: 5 December 2018

Online entries close: 31 January 2019

Submission of additional material: 8 February 2019

Presentation to Juries: 19 February 2019

NSW Student Architecture Awards Night: Friday 1 March 2019

2019 NSW Student Architecture Awards EXHIBITION, 1–15 March 2019




at Tusculum, Monday to Friday, 10am–5.30pm
Judging
The Jury will be appointed by the NSW Chapter Council and will comprise of:
Chair: Laura Cockburn, Conrad Gargett

Rachel Hurst, University of South Australia

Michael Wiener, Mirvac Design

Marinel Dator, Bates Smart

Hannah Slater, EmAGN co-chair
No jury member is to have taught at any of the accredited NSW schools of architecture during the period for which submissions have been entered. The jury much have at least one member having studio teaching experience.
Award Partners
A big thank you to our sponsors. Their support is vital to the success of this program.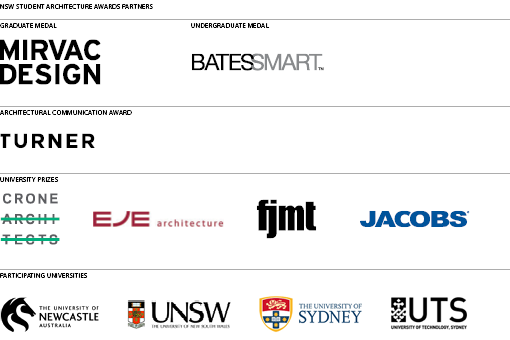 Contact
For all enquiries relating to the NSW Architecture Awards please contact the NSW Awards & Prizes Officer or call 02 9246 4013.