2017 NSW Architecture Awards
With the need for 190,000 new dwellings in the next four years according to the Greater Sydney Commission, access to quality, affordable housing options could not be more important. It comes as no surprise that residential categories figured strongly in the Institute's 2017 NSW Architecture Awards, announced at Luna Park on Saturday 1 July.
Residential Architecture – Multiple Housing was the largest category in the 2017 NSW program highlighting the role architects have in developing alternative housing options for our increasing population. From a strong field of 34 entries the jury shortlisted 14 projects and bestowed nine awards and commendations.
NSW Chapter President Andrew Nimmo was encouraged by the quantity and quality of multi-residential entries in this year's awards.
'Affordability and diversity of housing is an important community issue and while we need to have bigger cities to accommodate population growth, the challenge is to make better cities with increased open space and amenity and more reliable public transport and infrastructure must balance this greater density.

'Many of these entries contribute to addressing these issues through inventive design solutions,' Nimmo said.
In a fitting moment of poignancy, the evening began with the announcement of the Enduring Architecture Award – awarded to buildings of more than 25 years in age, which have stood the test of time – to 17 Wylde St, a 1948 design of Aaron M Bolot, the eponymous architect of the Institute's highest honour in NSW Residential Architecture – Multiple Housing.
The 2017 honour was presented to Candalepas Associates for their President Avenue project which 'sets an ambitious agenda, changing the expectations of apartment living in the outer suburbs and suggesting how an increased density can be sustainably and sensitively achieved,' the jury noted.
Other winners in this category include 41 Birmingham, Alexandria by SJB, noted by the jury as 'a fine attempt to give a cross-section of the community with different housing needs a distinctive, refined and practical alternative to detached houses' and 88 Angel St by Steele Associates Architects which consists of three semi-detached homes featuring green roofs that provide thermal and acoustic insulation, as well as encouraging native birds and insects once common in Sydney.
There was also a regional emphasis in this year's awards, with some of the biggest winners located beyond Sydney, including three regional projects which won top honours in their respective categories.
One of the state's most distinguished awards, the Sulman Medal for Public Architecture, was awarded to the Orange Regional Museum by Crone Architects for its 'simple, bold and confident moves' that have 'created a destination for locals and visitors,' as noted by the jury.
The Glasshouse Restaurant by TKD Architects at Tamworth's historic Goonoo Goonoo Station received the Blacket Prize for Regional Architecture, as well as taking out the competitive Commercial Architecture category with the jury making particular note of the 'considerable impact [of the project] on the local economy'.
'The transformation of Goonoo Goonoo Station, and the skilful efforts of the architects over almost a decade and several clients, is a testament to their commitment to the place, and to revitalising the region's economy through design excellence.'
The other big regional winner was Pirramimma Garden Pavilion by CAB Consulting, located in the Blue Mountains and whose primary structure is made from a single Cyprus tree. It won the Robert Woodward Award for Small Project Architecture.
In total the jury bestowed 66 awards and commendations. Projects that received a Named Award or Award at the NSW Architecture Awards will now progress to the National Architecture Awards to be announced in Canberra on Thursday 2 November.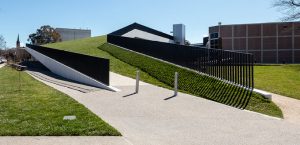 VIEW PHOTOS FROM THE 2017 AWARDS NIGHT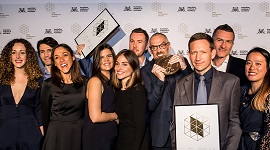 Full list of award and prize winners:
Commercial Architecture
The Sir Arthur G Stephenson Award – Glasshouse at Goonoo Goonoo Station by TKD Architects
Award – Sydney Processing Centre by Genton Architecture
Award – The EY Centre by fjmt
Commendation – 13 Bowden by H&E Architects
Commendation – Tramsheds Harold Park by Mirvac Design
Educational Architecture
The William E Kemp Award – NBCS by WMK
Award – Charles Sturt University Engineering Building by ThomsonAdsett
Award – East Sydney Early Learning Centre by Andrew Burges Architects in association with City of Sydney
Commendation – Dr Chau Chak Wing Building by Gehry Partners (Design Architect) with DJRD (Executive Architect)
Commendation – The University of Sydney Business School by Woods Bagot and KANNFINCH
Heritage
The Greenway Award – Juanita Nielsen Community Centre by Neeson Murcutt Architects Pty. Ltd. in association with City of Sydney
Award – 100 Harris St by SJB
Commendation – 57 Lower Fort Street- Regency Townhouse by Tropman & Tropman Architects (Tasman Storey- Design Principal)
Commendation – EDG Forum by Archer Office
Commendation – Sydney Sewerage Pumping Station No. 1 by Hector Abrahams Architects
Interior Architecture
The John Verge Award – Juanita Nielsen Community Centre by Neeson Murcutt Architects Pty. Ltd. in association with City of Sydney
Award – Indigo Slam by Smart Design Studio
Award – Sydney Processing Centre by Genton Architecture
Commendation – East Sydney Early Learning Centre by Andrew Burges Architects in association with City of Sydney
Commendation – EDG Forum by Archer Office
Commendation – Woollahra Library by BVN
Public Architecture
The Sulman Medal – Orange Regional Museum by Crone Architects
Award – Albury Wodonga Regional Cancer Centre by Billard Leece Partnership Pty Ltd
Award – Juanita Nielsen Community Centre by Neeson Murcutt Architects Pty. Ltd. in association with City of Sydney
Award – Lizard Log Amenities by CHROFI
Commendation – North Bondi Amenities by Sam Crawford Architects with Lymesmith
Commendation – Wynyard Walk by Woods Bagot
Residential Architecture – Houses (Alterations & Additions)
The Hugh and Eva Buhrich Award – Annandale House by Welsh + Major Architects
Award – Jac by panovscott
Award – Lindfield House by Tribe Studio Architects
Award – Little Sister's House by Candalepas Associates
Commendation – House Au Yeung by Tribe Studio Architects
Commendation – North Avoca by savio parsons
Residential Architecture – Houses (New)
The Wilkinson Award – Tamarama House by Durbach Block Jaggers Architects
Award – Brick House by Andrew Burges Architects
Award – Coogee House by Chenchow Little
Award – Foredune House by Peter Stutchbury Architecture
Award – Riverview House by David Boyle Architect
Commendation – Brougham Place by Smart Design Studio
Commendation – Macmasters Beach House by Polly Harbison
Residential Architecture – Multiple Housing
The Aaron Bolot Award – President Avenue by Candalepas Associates
Award – 41 Birmingham by SJB
Award – 88 Angel St by Steele Associates Architects
Award – Anadara by fjmt; Collaborating Architects Lendlease Design
Award – Crown 515 by Smart Design Studio
Award – Solis: Little Bay Apartments by Fox Johnston
Commendation – Cowper Street Housing by Andrew Burns Architect (A—B)
Commendation – EVE by DKO Architecture
Commendation – Skye by Crown Group by Koichi Takada Architects
Small Project Architecture
The Robert Woodward Award – Pirramimma Garden Pavilion by CAB Consulting
Award – Bondi Beach Picnic Shelters by Tonkin Zulaikha Greer Architects
Award – North Bondi Amenities by Sam Crawford Architects with Lymesmith
Commendation – Campos Barangaroo by Woods Bagot
Commendation – Froebel Play Pods by Silvester Fuller
Commendation – Newcastle Music Studio by m3architecture
Commendation – MA House by SHAC
Sustainable Architecture
The Milo Dunphy Award – 88 Angel St by Steele Associates Architects
Award – Central Park Sydney by Tzannes and Cox Richardson and Foster + Partners
Award – Sydney Processing Centre by Genton Architecture
Commendation – Charles Sturt University Engineering Building by ThomsonAdsett
Urban Design
The Lloyd Rees Award – Central Park Sydney by Tzannes and Cox Richardson and Foster + Partners
Award – Kensington Street Precinct by Tonkin Zulaikha Greer Architects
Award – The Goods Line by ASPECT Studios with CHROFI
Commendation – Dutton Plaza by Antoniades Architects
Commendation – Wynyard Walk by Woods Bagot
Enduring Architecture
Award – 17 Wylde Street by Aaron M Bolot (Designed 1948, completed 1951)
COLORBOND® Award for Steel Architecture
Award – Lizard Log Amenities by CHROFI
Commendation – Coogee House by Chenchow Little
Chapter Prizes
Blacket Prize – Glasshouse at Goonoo Goonoo Station by TKD Architects
City of Sydney Lord Mayor's Prize Joint Winner – Tramsheds Harold Park by Mirvac Design
City of Sydney Lord Mayor's Prize Joint Winner – Kensington Street Precinct by Tonkin Zulaikha Greer Architects
President's Prize – Jack Mundey
Emerging Architect Prize – Tomek Archer, Archer Office
Marion Mahony Griffin Prize – Jocelyn Jackson, TKD Architects
David Linder Prize – Natalia Krysiak, Hayball Architects