The Marion Mahony Griffin Prize is awarded annually to acknowledge a female in the field of architecture for a distinctive body of work. Established in 1998 by the NSW Chapter, it aims to acknowledge the significant contribution of women to the profession across a number of industry platforms including architectural education, journalism, research, professional practice and theory, as well as for built architectural work. The adoption of the name of Marion Mahony Griffin recognises her invaluable contribution to the combined effort of Walter Burley Griffin and Marion Mahony to the architecture of Australia.
Marion Mahony Griffin Prize Winners Booklet 1998 – 2019
Past winners include: Abbie Galvin • Oi Choong • Jocelyn Jackson • Desley Luscombe • Justine Clark • Bridget Smyth • Helen Lochhead • Julie Cracknell • Caroline Pidcock • Jan McCredie • Catherine De Lorenzo • Andrea Nield • Wendy Lewin • Kim Crestani • Dr Anna Rubbo • Beverley Garlick • Susan Macdonald • Louise Cox AO• Dr Elizabeth Farrelly • Christine Vadasz • Diane Jones • Joan Domicelj • Anne Higham • Jennifer Taylor
2020 Nominations Closed on 15 September

Do you know someone you feel should be recognised for their work? Maybe that person is yourself! Nominations close Tuesday 15 September.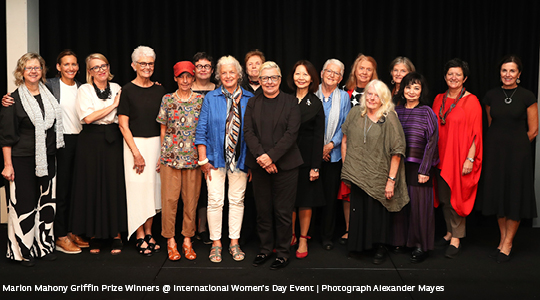 The winner will be announced at the Prize Night event in November 2020 and will be asked to speak about their career at the annual International Women's Day breakfast event in March the following year.
Nominations are made via an online form. To complete the nomination you will need to provide:
Details of the nominated entrant (self or other)

A summary of the body of work in no more than 500 words

A CV of the nominee detailing their career and relevant achievements (or link to online CV)

A photo of the nominated entrant
If required, the jury may request additional information and/or an interview with the nominees.
This award is free to enter.
---
Eligibility:
Individuals can nominate themselves or be nominated by either an individual or an organisation.

Those nominated by a third party will be notified to gain consent before being considered. You can choose whether to make your nomination anonymous or not.

Nomination in one year does not preclude nomination in a subsequent year and previous applicants will be considered for up to five years.

Candidates do not have to be a member of the Institute of Architects or be registered with the Board of Architects, but they are required to have graduated with a Bachelor of Architecture degree or to have sat the exam of the Board of Architects that qualifies one to become an architect.
Prize criteria
Candidates should display attributes across the following criteria:
Displays personal and professional attributes befitting of the award namesake, eg. adventurous, creative, original and independent thinker, cross disciplinary, collaborative, resilient.

Shows a broad participation and commitment to the profession, evidenced by activities such as participation in professional committees, juries, talks and lectures, teaching or other roles in higher education, and contribution to publications.

A commitment to the development of others, whether through mentoring, sponsorship, education, or other means of support.

Influence and impact on the built environment through a significant body of work of 5 or more years.

A lack of previous formal recognition by or ineligibility for other awards
The Jury
There will be a Jury of five, at least three being women and one man, including but not limited to:
A female member of Chapter Council or female Institute of Architects member appointed by Chapter Council

Winner(s) of the MMG Prize for the previous year or nominated representative

An architect

An academic from a School of Architecture or other relevant discipline such as Fine Arts from a university in NSW
The Jury can include up to two members from the previous year's Jury. At least one juror should be knowledgeable of Marion Mahony Griffin's work and principles. The Jury reserves the right not to give a prize in any one year and the Jury's decision is final. The Jury may make nominations and if so are responsible for requesting the architect to complete the nomination form and provide the required material.