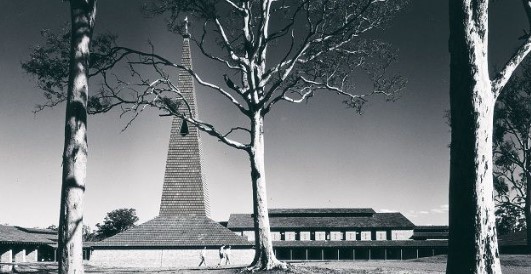 Image: The Enduring Architecture Award 2014 Winner: CB Alexander College, Tocal, Ian McKay and Philip Cox, architects in association. Photography: Max Dupain

Do you have a longstanding, favourite building in NSW you feel should be recognised with an award?
Open to buildings of at least 25 years of age, the Enduring Architecture Award recognises achievement for the design of buildings of outstanding merit, which remain important as high quality works of architecture when considered in a contemporary context. Nominations are welcome from Institute members, non-members and non-architects, but must provide adequate content for consideration by the jury.
2020 Jury
Chair: Kathlyn Loseby FRAIA, NSW Chapter President
Jennifer Preston, Chair Heritage Committee, JPA & D
Susan O'Neill, NSW Land and Environment Court
Peter Salhani, Sparkkle.space
Please note that this award category is designed to recognise the enduring features of the original work, not any substantial adaptive re-use, which should be considered under Category 7: HERITAGE (see NSW Architecture Awards).
Projects will be works considered technically advanced or innovative for their time, which remain symbolically significant, are exponents of creative leadership or are works of national significance. Recommendations can be submitted via an online form each year following an open call for nominations. Nominations must provide adequate content for consideration by the jury, including a project description and statement of significance, as well as any materials which may assist the jury such as drawings and photographs.
2020 NOMINATIONS close on Wednesday 26 February

SUBMIT HERE

Please note that a short statement related to the heritage/cultural significance of the building is required.
If the building already has a heritage listing, the statement of significance can be found by searching for the relevant listing at: http://www.environment.nsw.gov.au/heritageapp/heritagesearch.aspx.


If the building has no formal listing, you will need to outline the project's significance yourself. If you are preparing your own statement, the Institute's Register of Significant Buildings provides a guide for what should be included in a Statement of Significance:
AUSTRALIAN INSTITUTE OF ARCHITECTS REGISTER OF SIGNIFICANT BUILDINGS IN NSW.

The award jury considers recommendations, previous award winners and the state's Register of Significant Twentieth Century Architecture to determine a shortlist of projects for consideration. The jury will incorporate any new recommendations on a master list that will be revisited annually. One project has been awarded at state level annually since 2003. State winners are later considered by the national jury for the National Award for Enduring Architecture.
Previous NSW Enduring Architecture Award winners:

2019 350 George Street, Edward Raht
2018 Sirius Tao Gofers, NSW Department of Housing with Alexander & Lloyd Architects
2017 17 Wylde Street, Aaron M Bolot, 2017 National Architecture Awards – Enduring Award
2016 Reader's Digest Building, John James & Associates, 2016 National Architecture Awards – Enduring Award
2015 Buhrich House II, Hugh Buhrich, 2015 National Architecture Awards – Enduring Award
2014 Tocal, Ian McKay and Philip Cox, Architects in Association, 2014 National Architecture Awards – Enduring Award
2013 AMP Building, Peddle Thorp & Walker
2012 Australia Square, Harry Seidler & Associates, 2012 National Architecture Awards – Enduring Award
2011 Magney House, Bingie Point, Glenn Murcutt
2010 Glen Street Offices, Milsons Point, Harry Seidler and Associates
2009 Curry House 2, Bruce Rickard
2008 The Wharf Theatre Walsh Bay, Vivian Fraser in Association with NSW Govt Architect
2007 First Extension to the Art Gallery of NSW, E H Farmer (NSW Government Architect) Andrew Andersons (Design Architect)
2006 The Concert Hall & Opera Theatre of the Sydney Opera House, Peter Hall of Hall Todd & Littlemore
2005 Kuring-gai College of Advanced Education, J.W. Thomson (NSW Government Architect), David Turner (Project Architect), Allen Jack +Cottier (Documentation), Bruce Mackenzie (Landscape Architect)
2004 Kempsey Farmhouse, Glenn Murcutt
2003 Sydney Opera House, Jorn Utzon
Contact
For all enquiries please contact the NSW Awards & Prizes Officer or call 02 9246 4006.